Official hygiene regulations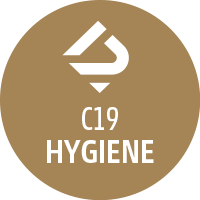 Current measures for safety & hygiene
We are of course adhering to guidelines for safe conduct with one another, including recommended hygiene measures (sichere-gastfreundschaft.at). After all, protecting the health of our guests and staff is our priority. Further information can be found at www.austria.info
You have the option to travel either vaccinated, having recuperated or having taken a test:
with a vaccination certificate (Since 15.8. only a full immunisation (second vaccination or vaccination where only one vaccination is scheduled) is valid as proof of vaccination. A first vaccination is no longer sufficient.) or
confirmation of having had and recovered from Covid-19 within the last 6 months or
a negative test result (antigen-test max. 24 hours previous/PCR-test max. 72 hours previous)
Upon expiry of the validity period of the test, another test must be carried out. We provide digital self-tests free of charge. These are valid for 24 hours.
There is also the option to have an antigen test on site in a chemist here or at a GP surgery (fee payable).
There is currently no obligation to quarantine. Please note the travel terms for guests provided at Information for Guests and Travellers, bmlrt.gv.at
We extend a warm welcome to you, albeit with a little more distance.
If required, we can park your car for you & take your luggage to your room.
On request, we are happy to accompany you to your room door – while observing social distancing.
We recommend using contactless payment.
Cleaning concept
All areas are regularly sanitised using disinfectants. We use the cleaning concept from the company 'Hollu' and our increased cleaning and sanitising measures enable us to ensure you enjoy a carefree holiday.
For clean hands
At all entrances and important areas, hygiene dispensers and hand sanitisers are provided.
Weekly testing for our team
To ensure a maximum level of safety, the entire team in the Zwölferhaus will be tested weekly.
Fresh air
All rooms are ventilated on a regular basis, letting in our fresh mountain air.
You can of course opt to avail of our room service offer (fee payable).
Our SKY Wellness and our fitness room 'Kraftwerk' are open for you.

Time for mountains – the loveliest hiking trails and bike trails start direct from the hotel. Spend a few tranquil hours out in the natural surroundings, where you have plenty of space to yourself.
You can find more information about the rules currently in force in the ski area here: www.saalbach.com
Subject to change.
Legal measures are constantly changing.
We always try to keep you up to date.