Your summer holiday in Saalbach Hinterglemm
A family summer - holiday with kids
Summer in Saalbach Hinterglemm is colourful beyond your wildest dreams. Families can expect a world filled with imagination, natural wonders and adventures during their summer holiday here in the Kitzbühel Alps. Feed the deer, splash around in the water playground, or embark on a journey of discovery with characters straight out of a fairy tale. Dare to go high on the high-rope course or head for the fairy-tale forest. Whatever you choose - boredom doesn't stand a chance in the Glemmtal Valley. And best of all - many of these adventures don't cost anything!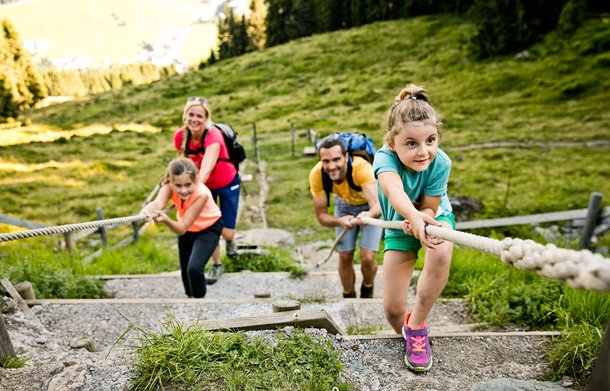 ADVENTURES FOR ALL AGE GROUPS
KODOK MOUNTAIN
On the Reiterkogel in Hinterglemm, join the search for the stolen hat! Along a 3.5km-long hiking trail, ten riddles are waiting to be solved to arrive at the secret magic word. With a little courage, brainpower and dexterity, young and old adventurers will reach their goal eventually. Another attraction is the Kodok Expedition, where kids can look for clues along a 3km circular trail, armed with just a treasure map. Numerous adventures and challenges must be dealt with before they reach the finishing line. Kodok Mountain and Kodok Expedition are suitable for children aged 7-14.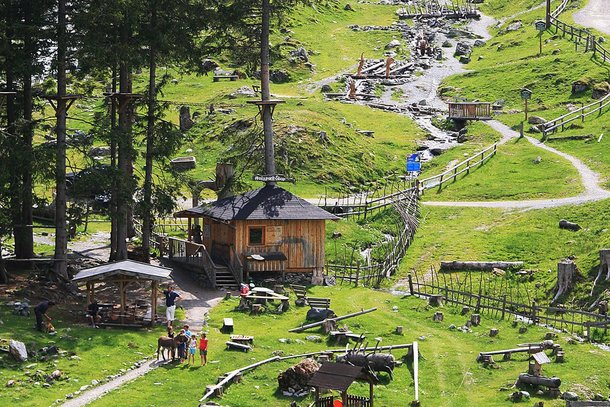 OUTDOOR ADVENTURES
SCHNITZA'S HOLZPARK
Right next to the "Devil's Water" on Lindlingalm Pasture awaits a vast adventure playground made entirely out of wood. Engaging with natural materials is known to boost creativity and thirst for adventure. Ingenious play areas such as extreme mini golf, a puzzle made from wooden discs, can-throwing, milking competitions on a wooden cow and many more options offer many hours of outdoor fun amidst the natural setting of the Salzburger Land.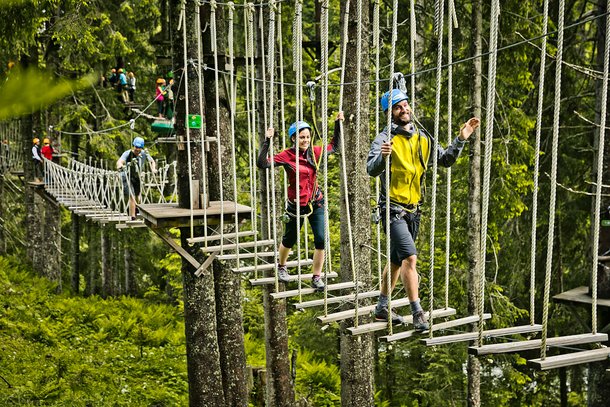 HAIR-RAISING THRILLS
HIGH-ROPE COURSE
The climbing stations in Austria's largest high-rope course are up to 40 metres high. The course has several levels of difficulty and offers children who are at least 130cm tall a truly exciting time! In addition to the 200 different stations, there are 30 rope slides for them to try, on some of which kids can swish across the valley in a truly spectacular way. Gliding across the valley at speeds of up to 80km/h and at altitudes of up to 120 metres is not for the faint-hearted!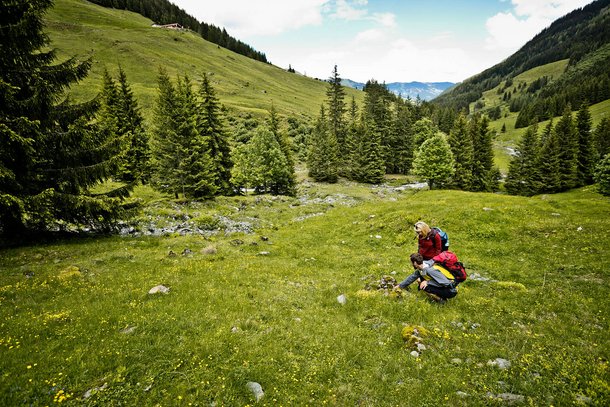 TREASURE HUNT
GEO-CACHING
Armed with a GPS device and the coordinates of the hidden treasures, brave this outdoor challenge - particularly difficult along the almost 15km long Power Trail along the Saalach river, where lots of geo-caches are waiting to be discovered in close proximity to one another. This highly entertaining treasure hunt adds a fun touch to family hikes that both children and parents will enjoy!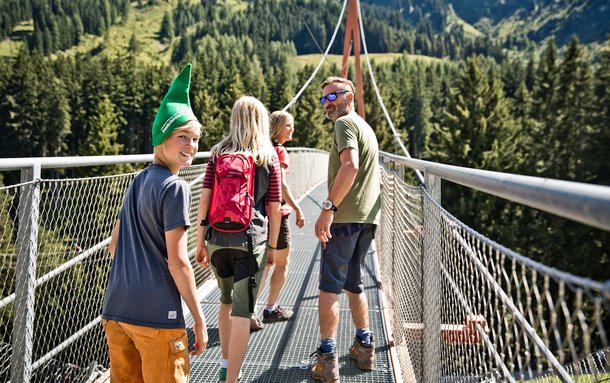 HIGH ABOVE THE TREE TOPS
TREE TOP TRAIL AND GOLDEN GATE OF THE ALPS
On Europe's highest tree-top trail, you have the unique opportunity of seeing the forest from a bird's-eye perspective. The 1km-long circular trail above the tree tops leads to a 200m-long hanging bridge at a height of 40 metres and is open all year round. Right next to the tree top trail. there is the low-rope course, consisting of twenty stations at low heights where you can test your dexterity.
ENDLESS FUN
There are more opportunities for fun and games on the many children's playgrounds on mountain pastures, as well as a range of other family-friendly activities to try, such as geo-caching, birds of prey shows, biking, hiking and lots of great day trip destinations.
Exploring the element of water
"Devil's Water"
At the "Devil's Water" at the valley head, children may explore this element in all its facets. The lovingly constructed theme park consists of numerous play and wellness stations and makes a wonderful destination for families with children.
Cool through the summer
Captain Hook outdoor pool in Saalbach
For hot summer days, the outdoor pool in Saalbach is the perfect destination. On an area of 1,000m2, visitors can enjoy a whitewater channel, a climbing net, wave machine, massage lounger, tube slide with light and sound effects, tyre slide, beach volleyball court and open-air cinema.
Fun & Games for kids
Family Park Hinterglemm
While the parents are relaxing, the kids can have fun at the lovingly designed play stations.
A magical time
Fairy-tale forest
Wood plays a leading role also in the fairy-tale forest of Hinterglemm. Beautifully carved by hand, well-known fairy-tale figures really come to life. The entrance to the fairy-tale forest is located right next to the indoor tennis court in Hinterglemm, side by side with a fantastic skate park and a climbing tower.
On the magic mountain
Montelino's adventure path
Little Montelino has lost his friends and his toys! Help him find them again on a journey through the forest and across Alpine pastures, from the mountain station on the Kohlmais in Saalbach to the middle station. Even the youngest ones can take part in this outdoor adventure and are bound to enjoy their time on the magic mountain. This adventure-packed, stroller-friendly hiking trail runs over a distance of approximately 3km and is recommended for children up to the age of 7.
Up close and personal with the forest dwellers
Feed the deer with Montelino
See the deer from up close, from the observation point above Panoramaalm pasture. During the summer, the deer are fed here every day between 10 and 11am. There are also play points as well as a monumental, walk-in deer for added fun.