Discover Saalbach Hinterglemm with a certified guide
Guided bike tours with the Bike'n Soul bike school
As a guest of the Bike'n Soul hotel DAS ZWÖLFERHAUS, you have the option of taking part in Bike'n Soul guided tours with the professionally trained guides of the bike school. Discover Saalbach Hinterglemm on selected, often untouched trails and let the bike guides show you the region's most beautiful spots.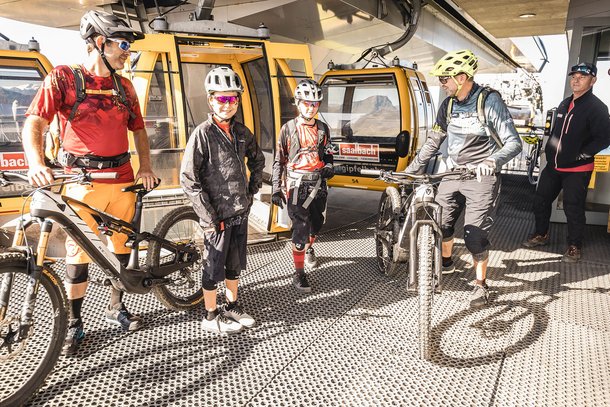 Bike guiding for kids
Guided biking & freeriding for all ages
The Bike'n Soul guides are professionally trained experts when it comes to biking technique and selecting the most unforgettable routes in the region. From classic mountain bikes to hair-rising downhill biking or difficult freeriding: Our guides are competent and knowledgeable and are happy to share tips and tricks with you. Very young bikers will enjoy the special guiding service for kids - the Bike'n Soul bike school offers exclusive freeride guides for children, where they can learn all about riding safely, cornering techniques and much more. This is a safe way for children to try out and practise small drops and other obstacle under supervision.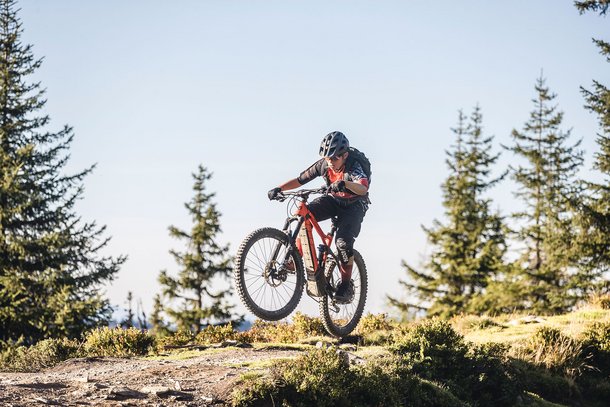 Group tours
Bike tours with the Bike'n Soul bike school
From Monday to Saturday, the Bike'n Soul bike school offers guided tours. All of them start at 10am (with the exception of the Big-5 bike tour, which starts at 9am). Please register in advance. Helmets and gloves are mandatory for all tours. Knee or elbow pads can be worn if desired. If you are not sure, ask us for more information.
Our guiding prices per person
| Type | Day | Price Guided hikes | MON–SAT | € 30.00 Guided Big-5 tour | WED & SAT | € 35.00 Freeride Teens (12–15J) | MON/WED/FRI | € 30.00 Freeride Kids (8–11) | TUE/THURS | € 30.00 technique course | | € 40.00 |
| --- | --- | --- | --- | --- | --- | --- | --- | --- | --- | --- | --- | --- |
There is no minimum number of participants, but please note that for safety reasons the maximum number of participants is 10. The guides always base the level on the weakest participant in the group. Register by mail, telephone or at reception.