The bike circus Saalbach Hinterglemm: pure bliss for mountain bikers
Mountain bike trails & tours
Whether you are planning on conquering several summits as part of a group tour, want to push yourself further in difficult terrain, or are looking for a family-friendly cycling trip: As soon as the snow and the winter sports fans have left, the mountains around Saalbach Hinterglemm and Leogang get ready to welcome mountain bike enthusiasts form all over.
The view across the magnificent mountain panorama of the Hohe Tauern and the Leoganger Steinberge range are a dream come true for any mountain biker worth their salt! From easy panorama tours to strenuous marathons or difficult cross-country trails, the region of Saalbach Hinterglemm in the Salzburger Land has a bike adventure and mountain bike tour for everyone, independent of their level of skill.
The most popular biking routes in Saalbach Hinterglemm
The top mountain bike tours in your holiday region
We have compiled an overview of the most popular mountain bike tours in the categories easy, medium and difficult for you:
Easy tours:
Schattberg east/west tour. Altitude difference; 1,368m; 31km
Talschluss tour. Altitude difference: 400m; 19km
Bärenbach tour: Altitude difference: 1,368m; 23.5km
Bergstadl tour. Altitude difference: 525m; 11km
Medium tours:
Wetterkreuz tour. Altitude difference: 814m; 18 km
Tiroler Runde. Altitude difference: 1,798m; 47.6km
Huber Hochalm tour. Altitude difference: 680m; 19.2km
Panoramaalm tour. Altitude difference: 680m; 22.8km
Difficult tours:
Zwölferkogel-Ellmaualm. Altitude difference: 1,093m; 19.5km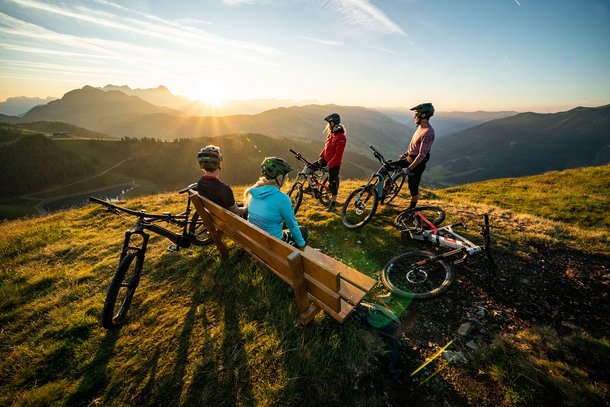 Professional bike coaching
Practice sessions in the technique training park
At the Bike Parcours Saalbach Hinterglemm, you may improve your technique with professional MTB-Academy coaches and get ready for more difficult obstacles in a step-by-step process. Improve your technique and methods in the low-risk environment of the technique training park before tackling the actual trails and tours.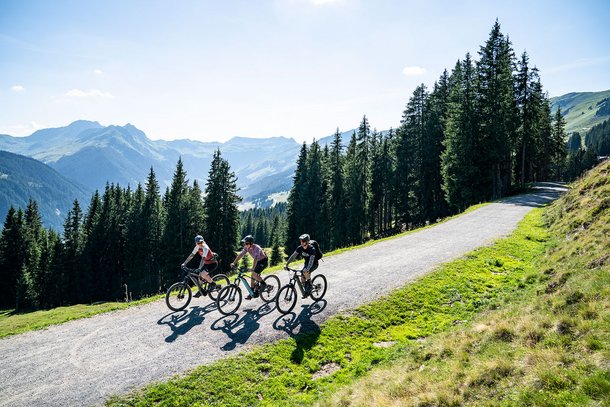 Top bike events in Saalbach Hinterglemm
Glemmride Festival & World Games of Mountainbiking
In early July every year, the Glemmride Bike Festival, a legendary freeride event, takes place here, with a programme that includes fantastic freerides, gravity competitions, parties and workshops. The Glemmride Bike Festival is a bike event for the whole family while on summer holiday in Saalbach Hinterglemm.
In September, Saalbach Hinterglemm hosts the World Games of Mountain Biking, where motivated and ambitious mountain bikers show off their skills on a range of tours, from Cross-Country races to Downhill competitions. Join us for this unique mountain bike festival in the Pinzgau region, either as a spectator or as one of the athletes.
The sauna, steam bath and panorama quiet room in the wellness oasis of the hotel Das Zwölferhaus make for a perfect end of your day in the saddle in Saalbach Hinterglemm. Unwind both on a physical and a mental level, in the soothing warmth of our hotel wellness area, while reflecting on your glorious bike tour. Afterwards, enjoy a lie-down in our comfortable rooms or a warm summer's evening on the balcony.