The bike circus Saalbach Hinterglemm: pure bliss for mountain bikers
Mountain bike trails & tours
Whether you are planning on conquering several summits as part of a group tour, want to push yourself further in difficult terrain, or are looking for a family-friendly cycling trip: As soon as the snow and the winter sports fans have left, the mountains around Saalbach Hinterglemm and Leogang get ready to welcome mountain bike enthusiasts form all over.
The view across the magnificent mountain panorama of the Hohe Tauern and the Leoganger Steinberge range are a dream come true for any mountain biker worth their salt! From easy panorama tours to strenuous marathons or difficult cross-country trails, the region of Saalbach Hinterglemm in the Salzburger Land has a bike adventure and mountain bike tour for everyone, independent of their level of skill.
The most popular biking routes in Saalbach Hinterglemm
The top mountain bike tours in your holiday region
We have compiled an overview of the most popular mountain bike tours in the categories easy, medium and difficult for you:
Easy tours:
Schattberg east/west tour. Altitude difference; 1,368m; 31km
Talschluss tour. Altitude difference: 400m; 19km
Bärenbach tour: Altitude difference: 1,368m; 23.5km
Bergstadl tour. Altitude difference: 525m; 11km
Medium tours:
Wetterkreuz tour. Altitude difference: 814m; 18 km
Tiroler Runde. Altitude difference: 1,798m; 47.6km
Huber Hochalm tour. Altitude difference: 680m; 19.2km
Panoramaalm tour. Altitude difference: 680m; 22.8km
Difficult tours:
Zwölferkogel-Ellmaualm. Altitude difference: 1,093m; 19.5km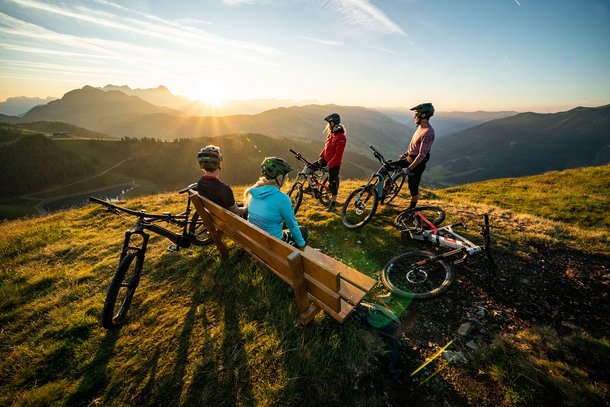 Professional bike coaching
Practice sessions in the technique training park
At the Bike Parcours Saalbach Hinterglemm, you may improve your technique with professional MTB-Academy coaches and get ready for more difficult obstacles in a step-by-step process. Improve your technique and methods in the low-risk environment of the technique training park before tackling the actual trails and tours.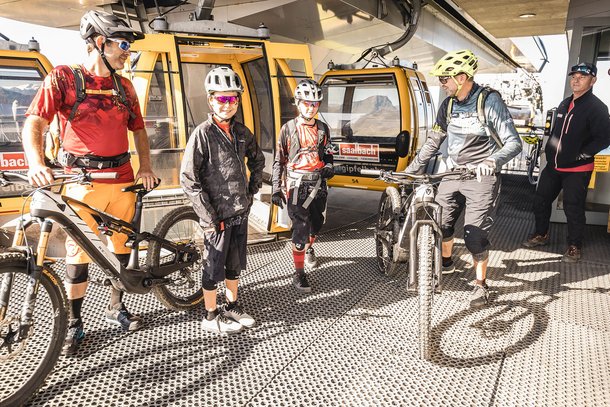 Discover Saalbach Hinterglemm with a certified guide
Guided biking & freeriding for all ages
As a guest of the Bike'n Soul hotel DAS ZWÖLFERHAUS, you have the option of taking part in Bike'n Soul guided tours with the professionally trained guides of the bike school. Discover Saalbach Hinterglemm on selected, often untouched trails and let the bike guides show you the region's most beautiful spots. The Bike'n Soul guides are professionally trained experts when it comes to biking technique and selecting the most unforgettable routes in the region. From classic mountain bikes to hair-rising downhill biking or difficult freeriding: Our guides are competent and knowledgeable and are happy to share tips and tricks with you. Very young bikers will enjoy the special guiding service for kids - the Bike'n Soul bike school offers exclusive freeride guides for children, where they can learn all about riding safely, cornering techniques and much more. This is a safe way for children to try out and practise small drops and other obstacle under supervision.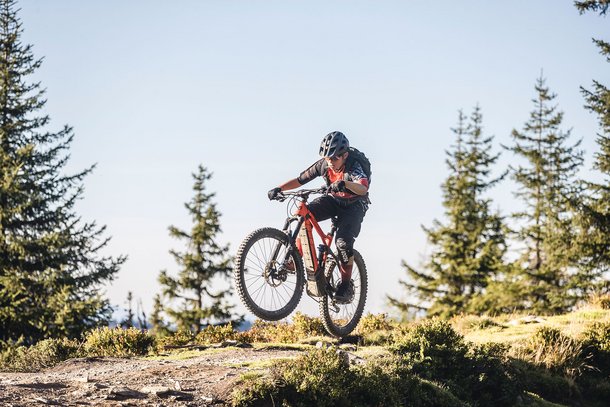 Group tours
Bike tours with the Bike'n Soul bike school
From Monday to Saturday, the Bike'n Soul bike school offers guided tours. All of them start at 10am. Please register in advance. Helmets and gloves are mandatory for all tours. Knee or elbow pads can be worn if desired. If you are not sure, ask us for more information.
Our guiding prices per person
| Type | Day | Price |
| --- | --- | --- |
| Guided bike tour | MON–SAT | € 35.00 |
| Guided bike tour incl. technique course | MON–FRI | from € 39.00 |
| Freeride Teens (12–15J) | MON–FRI | € 35.00 |
| Freeride Kids (8–11) | MON–FRI | € 30.00 |
There is no minimum number of participants, but please note that for safety reasons the maximum number of participants is 10. The guides always base the level on the weakest participant in the group. Register by mail, telephone or at reception.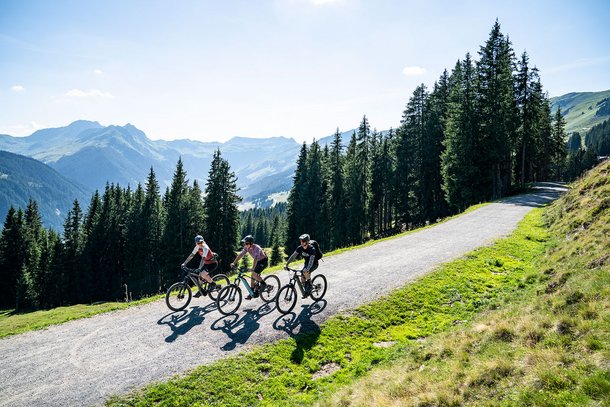 Top bike events in Saalbach Hinterglemm
Glemmride Festival & World Games of Mountainbiking
In early July every year, the Glemmride Bike Festival, a legendary freeride event, takes place here, with a programme that includes fantastic freerides, gravity competitions, parties and workshops. The Glemmride Bike Festival is a bike event for the whole family while on summer holiday in Saalbach Hinterglemm.
In September, Saalbach Hinterglemm hosts the World Games of Mountain Biking, where motivated and ambitious mountain bikers show off their skills on a range of tours, from Cross-Country races to Downhill competitions. Join us for this unique mountain bike festival in the Pinzgau region, either as a spectator or as one of the athletes.