Even more outdoor adventures in the Salzburger Land
Your active summer in Saalbach Hinterglemm
In addition to hiking and biking, the holiday region of Saalbach Hinterglemm offers a wide range of activities that add incredible variety to your summer holiday. From action to fun sports, tailor-made for adrenaline junkies, golf enthusiasts or families with young children who want a colourful programme of activities for every day of their holiday: In the Salzburger Land, you will find what you are looking for. Explore this beautiful region from many different perspectives!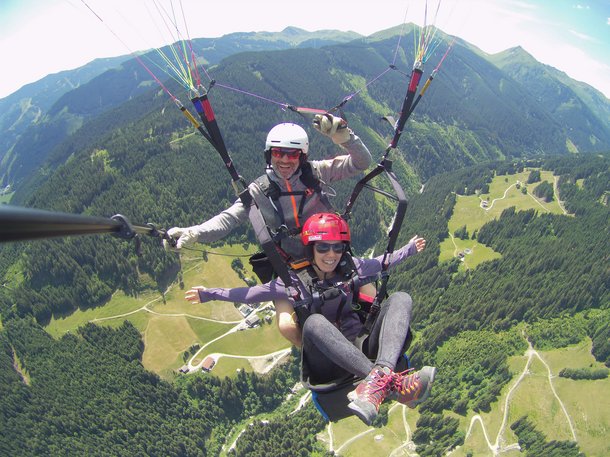 Adventures galore during your holiday
Action & Fun in Saalbach Hinterglemm
You think that hiking and biking is all very well, but what you really need is to explore your limits and get the adrenaline flowing? Then you have come to the right place: From tubing to rafting and canyoning, paragliding and go-karting, the adventure potential is high! Discover fantastic action & fun activities in the region.
More about action & fun

Tee-off against a magnificent backdrop
A golf holiday in the Salzburger Land!
Calling all golf enthusiasts - the Salzburger Land awaits with beautiful courses that will make your summer golf holiday truly unforgettable. In the vicinity of our hotel, you will find the two connected 18-hole golf courses Zell am See-Kaprun-Saalbach Hinterglemm. Saalfelden and Mittersill also have stunning Alpine greens. Find out more here about your golf holiday in the Salzburger Land, and just how close you are to golfing pleasures when you are on holiday here at the Das Zwölferhaus.
Go to golf holidays in Saalbach Hinterglemm

Sights in the Salzburger Land!
Day trip destination around Saalbach Hinterglemm
Culture, history, music, tradition and world-famous sights are all an integral part of your summer holiday. To give you an overview of all there is to discover around the Das Zwölferhaus, we have prepared an overview of attractive, unmissable day trip destinations. From castles to cities, leisures park and ice worlds, there truly is something for every taste. So go ahead and browse the many day trip destinations around Saalbach Hinterglemm!
Go to day trip destinations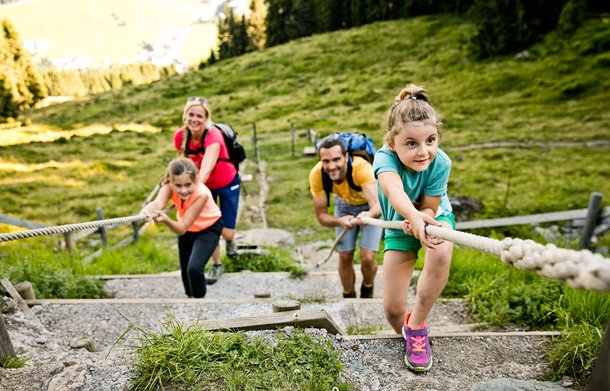 A playground for all age groups
A family holiday in the Salzburger Land
Boredom should have no place on a family holiday - what is needed is a versatile programme that pleases everyone. The Das Zwölferhaus is the perfect destination for families with kids. Right outside our hotel, they will find the largest playground ever - the natural setting of Saalbach Hinterglemm, just waiting to be explored. And there is still more: You need adventures that the kids can marvel at, day trips where they can learn something, the right mixture of peace and quiet, action, fun and games. The Salzburger Land has all that and more! We have compiled an overview of all the things that are part of a perfect family holiday.
More on family holidays