E-biking in Saalbach Hinterglemm
Spend a multi-faceted summer holiday in Saalbach Hinterglemm. From hiking and biking to simply relaxing, the region offers endless possibilities. One outdoor activity that perfectly links exercise and nature is e-biking. With our state-of-the-art, electrically powered mountain bikes, you are free to explore the holiday region around the Das Zwölferhaus. You will be amazed at how versatile e-biking can be and what attractive bike trails are waiting for you.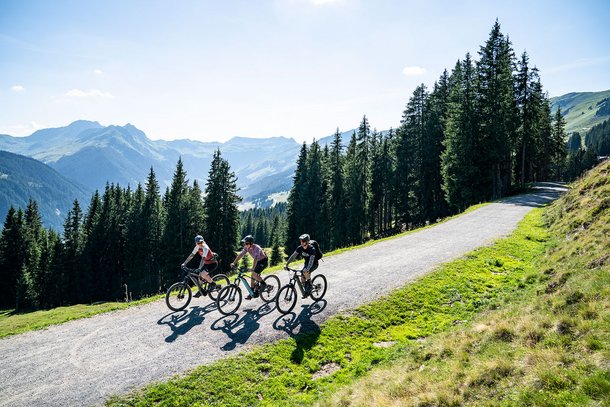 A delight for e-bikers
E-biking in the 400km biking paradise
The trail network spanning 400km offers mountain bike trails for all tastes and levels of skill. And all these trails are also suitable for e-bikes. Whether you are planning a relaxed trip to a rustic pasture or more difficult routes that take you right to the summit - the biking paradise that is Saalbach Hinterglemm will change your idea of e-biking forever.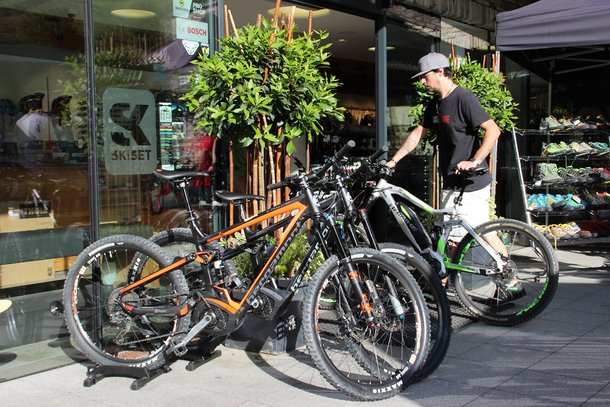 State-of-the-art e-bikes for all levels of skill
E-bike rental in the hotel
Don't have your e-bike, but would still like to give it a go during your summer holiday? No problem. Right at the hotel Das Zwölferhaus, there is a sports outfitters that operates its own e-bike rental service. In Rabbit Sports by hasenauer, you can rely on professional advice from an experienced team and a selection fo state-of-the-art e-bikes for all levels of skill.
Go to Rabbit Sports

More battery for long distances
Bike unlimited on your e-biking holiday
Thanks to the extensive mountain bike routes in our region, you'll experience even more adventures and more touring kilometres on your e-biking holidays in Hinterglemm. When e-biking in Saalbach Hinterglemm you can explore the coolest trails thanks to the interactive mountain bike touring map, or easily discover further touring options in Saalfelden, Leogang or Zell am See-Kaprun when e-biking. On the way, take a break at one of the many lodges and recharge your e-bike, and then set off again with new strength and a full battery for the next tour.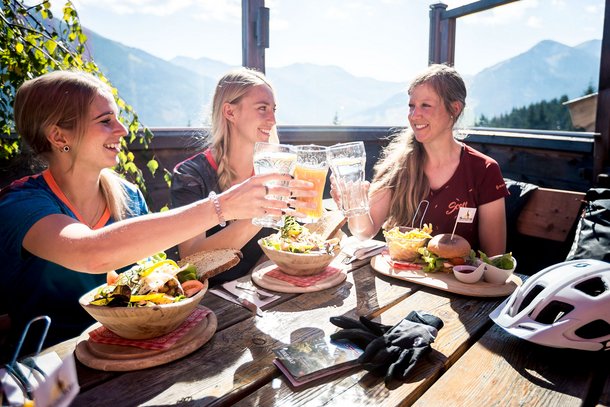 Your refuelling stop in the mountains
E-biking from its most pleasurable side
What could be better than finally getting to the summit or the mountain hut after a challenging e-bike tour, looking forward to some well-deserved refreshments? In the bike region of Saalbach Hinterglemm, more than 40 huts invite you to take a break. Enjoy some traditional fare that is bound to boost your energy levels after your e-bike tour. And let's be honest - the thought of a fluffy "Kaiserschmarren" or a hearty "Knödelsuppe" waiting at the top makes the legwork that little bit easier! As you can see, in Saalbach Hinterglemm, e-biking shows itself from its most pleasurable side.