Explore Saalbach Hinterglemm with Bike'n Soul
Bike'n Soul is not just the name of a cooperation project where professionally trained bike guides offer guided tours to hotel guests. It also stands for a mountain bike lifestyle that is unique to Saalbach Hinterglemm. The Zwölferhaus is a Bike'n Soul partner, which means that guests of our hotel have the opportunity of experiencing nature in an entirely new way. Bike'n Soul is also the first bike school in Saalbach and offers instruction for all levels of skill.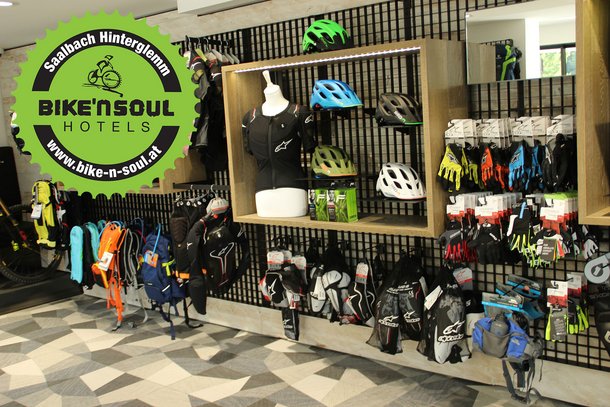 More variety for your biking holiday
The Bike'n Soul benefits at the Zwölferhaus
As a Bike'n Soul partner business, the Zwölferhaus offers its guests a range of attractive benefits. Get more from your biking holiday and discover nature in Saalbach Hinterglemm in a new, exciting way. From kids' guiding to bike service and discounts on rentals and more, there are lots of things to discover.
Go to bike equipment and benefits
Lots of gear & benefits for bikers
Your advantages at the Bike'n Soul hotel Das Zwölferhaus
To ensure that you will get the most out of your biking holiday in Saalbach Hinterglemm, we as a Bike'n Soul hotel offer numerous benefits as well as a comprehensive selection of mountain bike gear. This means that you will find everything you need right here at the hotel - all that's left for you to do is enjoy the biking paradise that is the Salzburger Land to the max.
These benefits are waiting for you
Guided mountain bike tour with the Bike'n Soul guides All Bike'n Soul guides are professionally trained experts when it comes to biking technique and selecting the most beautiful routes in the region.
Freeride guide for kids: Even the youngest bike fans will be taken care of. A freeride guide will keep an eye on them and teach them the correct cornering technique, small drops and much more.
Safe garage for bikes: As a Bike'n Soul hotel, we provide a safe space to store your bike in our bicycle cellar.
Bike stand, wash & service station: A wellness oasis for your bike In our in-house sports outfitters Rabbit Sports, we are also happy to service your bike.
Repair tools & repair stand For quickly changing a tyre or happily tinkering with your mates at a late hour!
Sportswear laundry service: ...to ensure that you can start your next bike adventure in clean, fresh-smelling sportswear.
Drying room for cycling gear and shoes If you get wet, there is a drying room for your clothes and shoes available at the hotel.
Touring map with road book of the Saalbach Hinterglemm Leogang bike region: We are happy to give you a touring map to help you find your way through the Bike Circus in Saalbach Hinterglemm. The road book contains every fork and every trail!
Download GPS tours for free: Download GPS data on your mobile phone or different GPS device for free, to ensure that you will always find the right path to your destination.
Daily energy pack: To keep you going during your bike tour, order one of our energy packs before you head out. Especially recommended for all-day tours!
Bike info corner: We always strive to provide you with a compact overview of everything to do with bikes, tours, huts etc. So drop by at reception, at Rabbit Spots or in a Bike'n Soul shop to get all the information you need.
10% discount on bike rental in our in-house sports outfitters Rabbit Sports by hasenauer
Help when planning your route: This is your first time in the holiday region of Saalbach Hinterglemm? No problem. We are happy to assist you when it comes to planning your tours and routes.
Weather info & warning service: As a Bike'n Soul hotel, it goes without saying that we are happy to provide you with daily information on the weather or any warnings that have been issued. You will find everything you need here with us at the Das Zwölferhaus.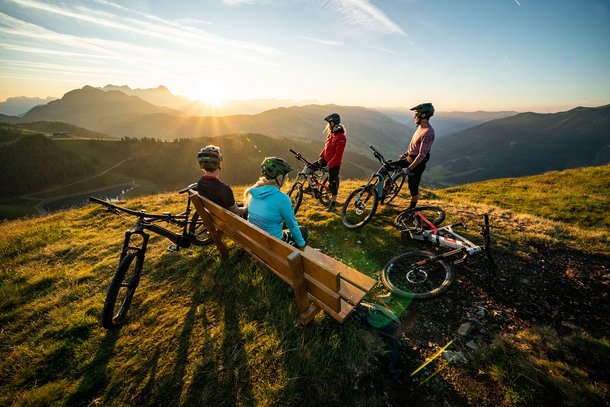 Comfortable & speedy access to the trails
Take the 12er KOGEL gondola lift to the Bike Circus
The name Bike-Circus Saalbach Hinterglemm will make the heart of any bike fan beat faster. The extensive network of bike trails spanning 400km, including downhill trails for all levels of skill, is considered the ultimate hot spot of the biking scene, both on a national and international level.
And with their holiday accommodation being located right next to the downhill trail, mountain bike enthusiasts have every reason to rejoice. The Zwölferhaus is located right next to the 12er KOGEL gondola lift, making for access to the Bike Circus. Whether you want to head for the summit straight from the valley or get the first stretch done with the gondola lift - you can choose the option that suits you best, depending on what you feel like on the day.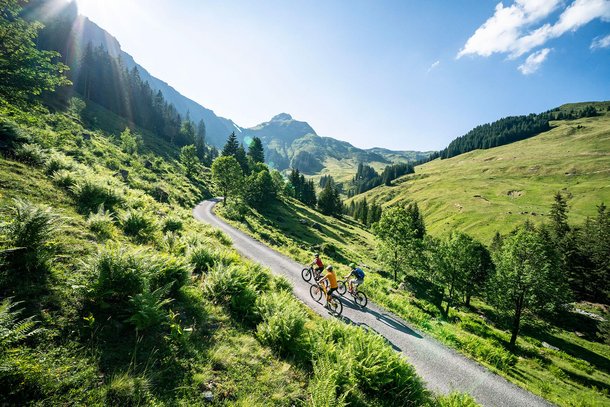 An ace up your sleeve
Head for the top with the JOKER CARD
Don't forget to bring your JOKER CARD, which entitles you to use 6 cable car lines in Saalbach Hinterglemm and at the Epic Bikepark Leogang (two rides per day included) free of charge. In addition, you receive two free bike transports daily at the cable car lines in Saalbach Hinterglemm or Leogang as well as -30% on all bike tickets for unlimited use incl. bike transport of up to 9 cable car lines in Saalbach Hinterglemm, Leogang as well as Fieberbrunn. Let the mountains work their magic on you even during the ascent! Once you're up there, the breathtaking mountain panorama will welcome you.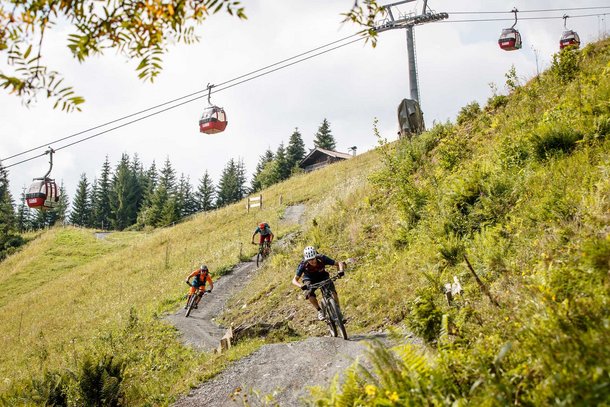 Bike adventures for everyone
Pure action on the Z-Line on the 12er KOGEL
One of Saalbach Hinterglemm's most popular freeride and downhill trails is nestled against the flanks of the Zwölferkogel: the Z-Line. This 3.4km-long trail is highly versatile: It is perfect for all those looking for a challenge, while also being suitable for less experienced bike artists. The reason? Because all the obstacles may easily be circumnavigated. You have the choice between the easy route or tackling the walls, jumps, wallrides, tables and Northshore elements of the difficult route on your BMX or MTB.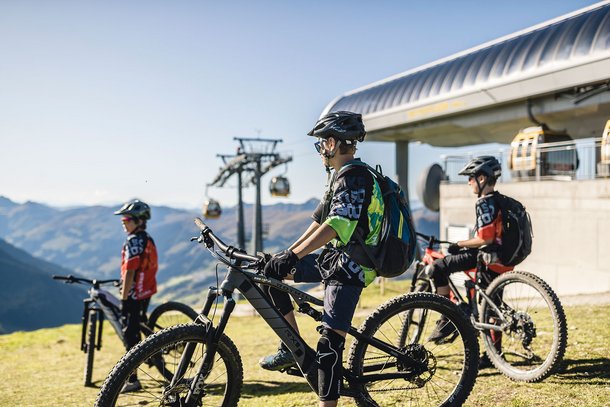 Adventure to share
Family fun in the mountains
Not only mountain bike and downhill fans will love the Zwölferkogel - families are also spoilt for choice when it comes to thrilling mountain adventures around the Zwölferhaus. From simple bike tours with pleasant inclines, a hike on a circular trail or action-packed fun on Montelino's summit playground – the outdoor resort of Saalbach Hinterglemm may be accessed directly from the hotel, leaving you and your children with lots of opportunities for a good time.
m difference in altitude during ascent
m difference in altitude during descent
Facts on the Z-Line
The 12er KOGEL gondola lift will take you to the mountain bike paradise and the Z-Line in no time at all.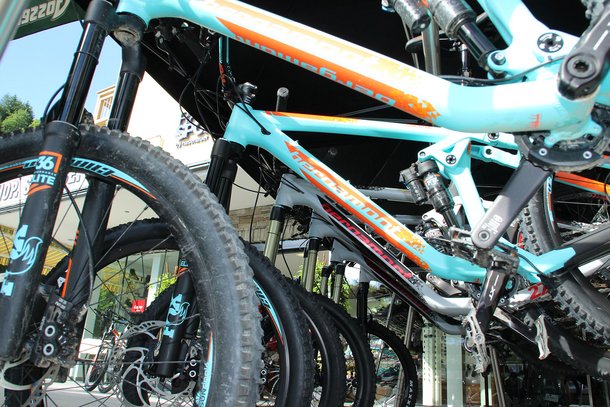 ALL ABOUT THE BIKE
RABBIT SPORTS – WE LOVE BIKES!
On the ground floor of our hotel, Rabbit Sports by hasenauer offers a wide selection of sports equipment all year round: Hiking and Nordic Walking poles, hiking shoes, backpacks, mountain bikes by Haibike and Bergamont, e-bikes, sportswear and much more!
Go to bike rental and sports outfitters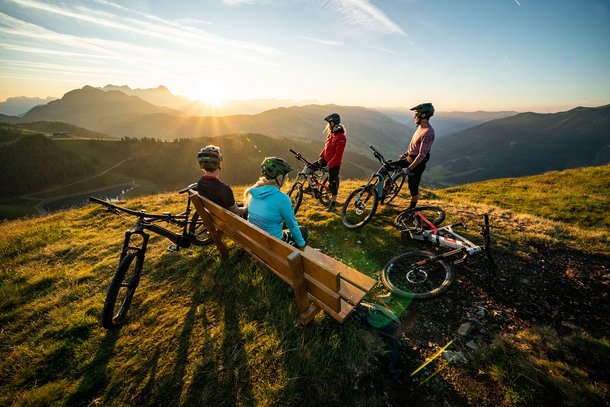 Your biking adventure awaits
Guided tour with the Bike'n Soul guides
The Bike'n Soul guides are pros when it comes to mountain bike tours in Saalbach Hinterglemm. Not only do they know the region like the back of their hand, they also know what to look out for in terms of technique and tour selection. So let the guides advise you and take you on a once-in-a-lifetime biking adventure! We have compiled an overview of the guided tours on offer for you.
Go to guided tours
Gently on the road on 2 wheels
Whether you are an e-bike novice or a professional e-biker, around Das Zwölferhaus there are wonderful routes to explore nature and to let off steam. You can rent an e-bike directly at our hotel.
GO TO E-BIKING
The Downhill & Freeride runs
Downhill and Freeride fans are also catered for. One of the region's Downhill runs, the Z-LINE on the Zwölferkogel, is located right outside our hotel.
Go to Downhil & Freeride
Zubuchbare Pakete für Mountainbiker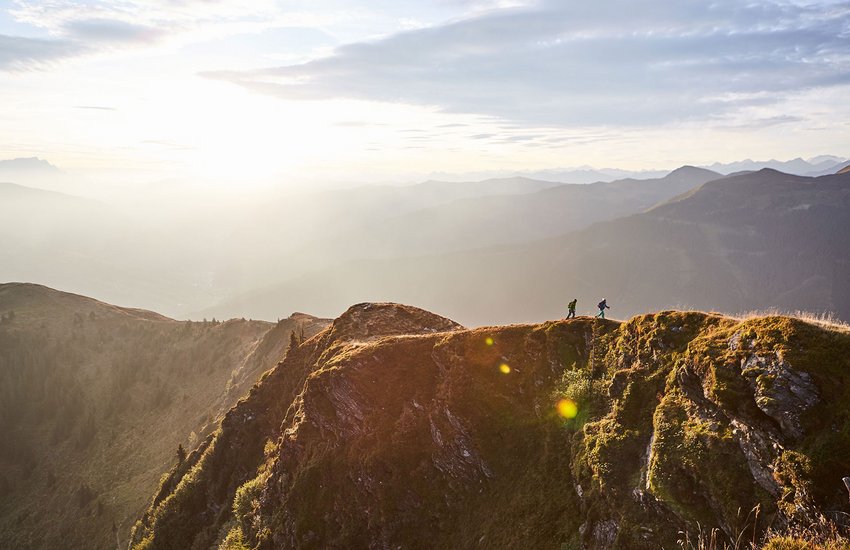 Hiking package
3, 4 or 7 nights with gourmet board, "Alm-Jausn" snack at the Rosswaldhütte and JOKER CARD
from € 352,- per person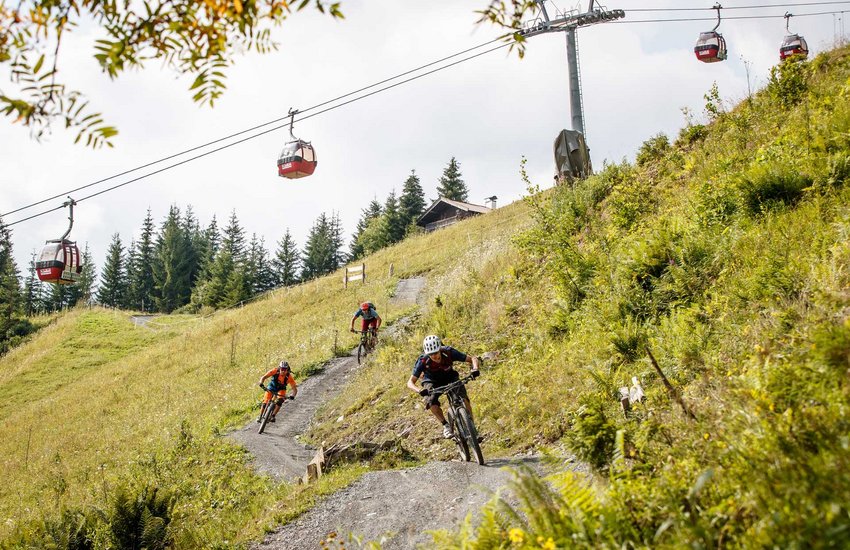 Bike'n Soul Package
3, 4 or 7 nights with gourmet board, guided tours according to Bike'n Soul tour plan and JOKER CARD
from € 372,- per person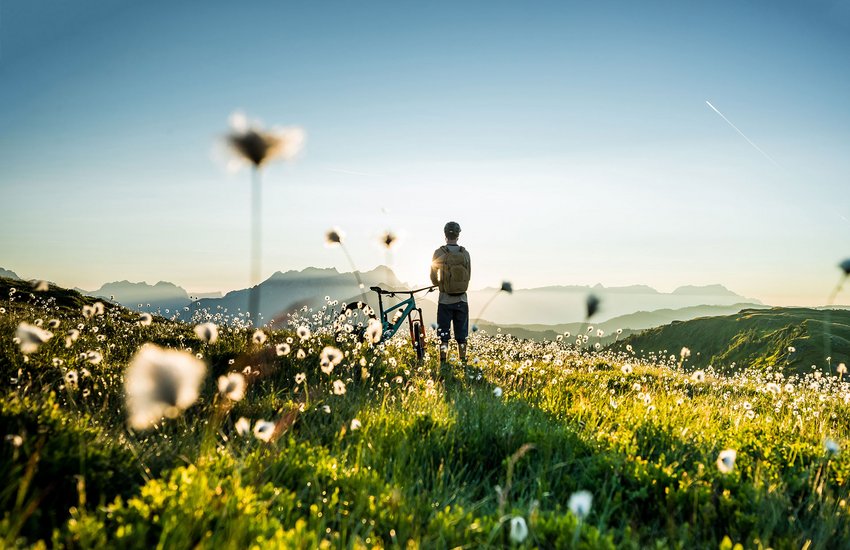 Bike light
3, 4 or 7 nights with gourmet board, daily sports laundry service and JOKER CARD
from € 348,- per person
Experience a bike vacation in a class of its own
learn more