Hotel with fitness lounge
Fitness lounge in hotel in Saalbach Hinterglemm
The top floor of our hotel is not just a beautiful place for relaxing, but also for working out and keeping up your personal training routine. Our "Kraftwerk" fitness lounge on an area of 70m², stylishly furnished in matte black and with a large window front, is equipped with everything that a fitness enthusiast's heart could desire. Whether cardio or strength, gentle yoga or bodyweight training: Our fitness lounge is at your disposal for staying in shape! The highlights: Top Precor fitness equipment, fantastic mountain panorama, views right into the valley, roof terrace for outdoor Aerobics and Spinning.
The fitness lounge is open daily from 7am until 8pm.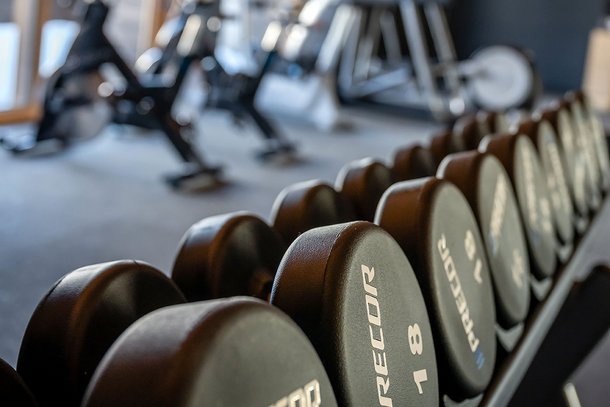 Top equipment by Precor
State-of-the-art fitness machines
Our "Kraftwerk" fitness room offers an elegant ambience with natural light and mountain views as well as state-of-the-art machines by Precor that leave nothing to be desired. With a cardio session, you will improve stamina and stimulate your metabolism. In addition, cardio training is an excellent preparation for hiking and biking tours in summer or for skiing in winter. If you wish to tone specific muscles, use the selection of strength training machines in the fitness lounge. Fit muscles are always a bonus when it comes to outdoor activities!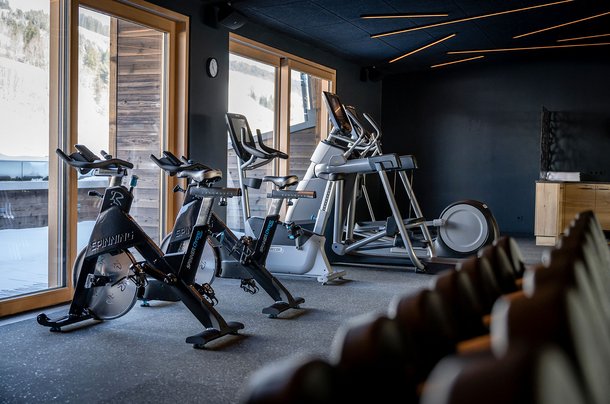 Our fitness equipment
AMT© – Adaptive Motion Trainer©
Elliptical fitness crosstrainer
Upright bike
Spinning bikes
Rowing machine "AirRower"
Leg extension machine
Lat pull-down machine/rowing machine
Strength station "FTS Glide"
Dumbbells from 0.5 to 18kg
Yoga mats
Disinfectant wipes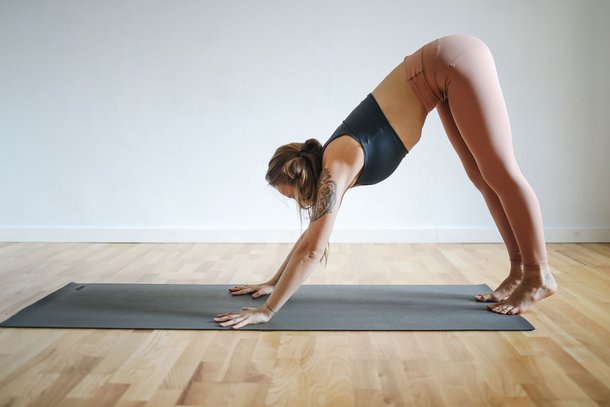 Time for Yoga & Co
Gentle training in the fitness lounge
In addition to cardio and strength equipment, mats for your individual training schedule are also available in the fitness lounge. An increasing number of guests prefer doing their own daily sequence of Yoga or Pilates exercises to stay fit and healthy. To enable you to keep up your exercises while on holiday, we are giving you the option of continuing your gentle workout routine in our fitness lounge on 70m². If you prefer exercising on your own, either for fitness, relaxation or both, you will find your own Yoga mat to use while on holiday in your room or suite.
Stay active and relaxed during your holiday in a hotel with a fitness lounge! Send your inquiry now