Regional delights at the hotel Das Zwölferhaus
Food, drink and much more in the Salzburger Land
No pleasure is transient – for the impression it creates, remains.
-Johann Wolfgang von Goethe-

Discover the culinary highlights of the Zwölferhaus, with delicious Austrian classics that offer a taste of the good old days. In addition, we offer internationally inspired dishes as well as our very own creations. Fresh, regional and tasty dishes, lovingly prepared by head chef Thomas Hilpold and his team. Dishes that focus on the essential and, combined with a glass of Austrian wine, provide our guests with moments of pure indulgence. When it comes to flavour, the Salzburger Land has a lot of offer. And we set great store by regionally sourced, authentic produce.
Treats for your palate, every day
Including gourmet half-board
The Zwölferhaus gourmet half-board serves up the best that the Salzburger Land has to offer on a daily basis. We also provide vegetarian and vegan options for every meal. If you have any food intolerances and require a special diet (for instance gluten- or lactose-free), we will do our best to take this into account. We kindly ask you to notify us of any special dietary requests when you make your booking.

Indulgence from morning until night
From 7:30 am until 10am, indulge at our sumptuous breakfast buffet with freshly baked bread and pastries, home-made jams, local honey, freshly prepared organic eggs from free-range chickens from Saalfelden, a selection of cheeses and cold cuts, loose tea blends by Bioteaque, aromatic coffee, muesli and much more - what better way to kick-start your day?

From 3pm until 4:30 pm, it's snack time, with a selection of sweet and savoury specialties.
Our 5-course dinner, served from 6:30pm until 8:00pm, is the crowning glory of a wonderful day. Today meat, tomorrow fish, the day after tomorrow a vegetarian or vegan option: as we offer several choices on a daily basis, you are free to create your own perfect menu every day.
Go to all inclusive services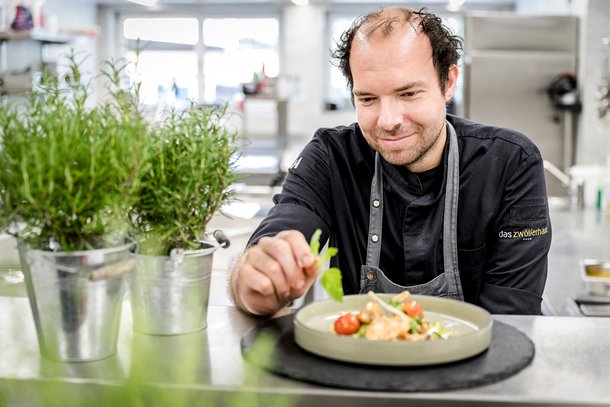 Up close and personal
Focus on products from the region
Here at the Zwölferhaus, we rely on regionally sourced, sustainable products in our kitchen. Whether we are talking about selecting the menu or about the suppliers of our ingredients and products - we always take care to work with regional partners. And that is something you can taste. The fact that we put products from the region first is not only reflected in the fantastic flavour of our products, but also supports our local farmers.
Put our culinary skills to the test during your holiday at the Zwölferhaus - send your inquiry now!