Salzburg Land – a paradise for hikers
Hiking holidays in Austria
A good hiking holiday needs more than just beautiful scenery: sufficient signposts, mountain huts that serve refreshments, hiking information provided by locals, and ideally also the option of taking part in guided hikes. If the infrastructure is right, your relaxing, hassle-free hiking holiday can begin. The Province of Salzburg has long established itself as a charming, hospitable and excellently prepared hiking region. Enjoy the blissful feeling of being close to nature while hiking in the Salzburger Land!

A region with many faces
A varied hiking region: the Salzburger Land
Whether your hike takes you through the area around Hinterglemm, across the foothills of the Alps, slightly higher up to the Pinzgau Grasberge range, or up the Großvenediger and the Großglockner, Austria's highest mountain: in the Salzburger Land, the Alps show themselves from their most versatile angle.
In and around Saalbach Hinterglemm, you can explore mysterious gorges, conquer high-altitude trails with sweeping panoramic views, or visit the world's largest ice cave. Whether leisurely hikers, families, mountaineers or extreme athletes: The holiday region of Salzburg has the right route for you.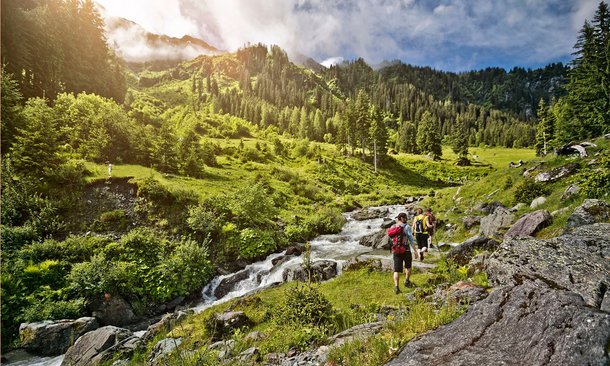 Hiking without limits
Hiking in the Salzburger Land!
At altitudes from 500 to 3,798 metres, a network of trails and via ferratas spanning 7,200 km lead visitors through the mountains of the Salzburger Land. This is your chance to really throw yourself into a one-of-a-kind hiking adventure - with the kids, as a couple or with a group of friends. Pack up your equipment and off you go!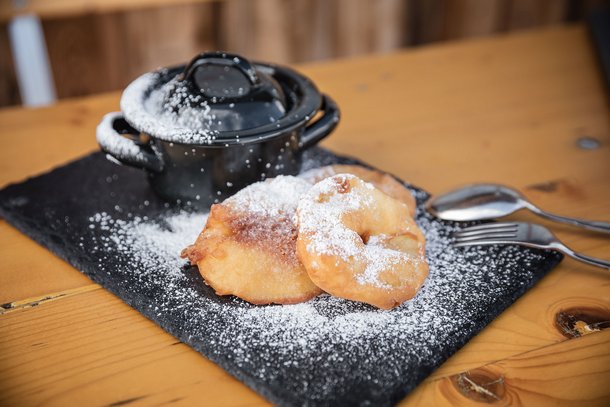 Mountain huts in the Salzburger Land!
Your destination? The next hut in the Alpine summer paradise
The Salzburger Land boasts no fewer than 550 mountain huts and pastures, a truly impressive number that is as good as unmatched. A particular highlight is the Salzburger Almenweg trail, a long-distance trail that links the most beautiful landscapes of Salzburg over a distance of 300km. Discover an Alpine summer paradise that is far cry from the daily routine and where you can truly unwind. As a reward, you will be welcomed with a friendly "Griaß eich" and some regional delicacies.
At the heart of the one of the most beautiful hiking regions in the Salzburger Land, in Saalbach Hinterglemm in the Pinzgau mountains, you have found your perfect hiking partner in the 4-star Superior hotel Das Zwölferhaus. After your hike, soothe tired muscles in our wellness area before sitting down to a delicious dinner.
Our hiking tips
Top hiking tours in Saalbach Hinterglemm
To give you an idea of the versatility of this region, we have prepared an overview of the most beautiful hiking routes around Saalbach Hinterglemm for you. Leverage the location of the Zwölferhaus, situated right at the heart of the hiking region, and start your multi-faceted summer holiday directly from the hotel.
These are our hiking tips:
Level of difficulty: easy
Distance: 9.7km
Duration: 2h
Lowest point: 1003m
Highest point: 1078m
Starting point: Saalbach Ronachgut
Level of difficulty: medium
Distance: 6.9 km
Duration: 3h
Lowest point: 1065 m
Highest point: 1405 m
Starting point: Dorfplatz Saalbach
Level of difficulty: medium
Distance: 9.8km
Walking time: 3h
Lowest point: 1405 m
Highest point: 1794 m
Starting point: Mountain station of the Kohlmaisgipfelbahn cable car
Level of difficulty: medium
Distance: 12.4 km
Walking time: 4:30 h
Lowest point: 1004 m
Highest point: 1794 m
Starting point: Valley station of the Kohlmaisgipfelbahn – ascent to mountain station
Level of difficulty: easy
Distance: 6.2km
Walking time: 3:30h
Lowest point: 1056 m
Highest point: 1569 m
Starting point: Zwölferkogelbahn valley station – ascent to middle station
Level of difficulty: medium
Distance: 4.7 km
Walking time: 2:00 h
Lowest point: 1054 m
Highest point: 1312 m
Starting point: Dorfstraße Hinterglemm
Level of difficulty: difficult
Distance: 14.7 km
Walking time: 05:30 h
Lowest point: 1167 m
Highest point: 2079 m
Starting point: Talschluss, Lindlingalm
Level of difficulty: difficult
Distance: 12.1 km
Duration: 06:30h
Lowest point: 1003m
Highest point: 2044 m
Starting point: Kohlmaisgipfelbahn, mountain station
Level of difficulty: difficult
Distance: 15.1km
Duration: 06:30h
Lowest point: 1142m
Highest point: 2115m
Starting point: Lengau, bus station
Level of difficulty: difficult
Distance: 24.4 km
Duration: 08:30 h
Lowest point: 1288 m
Highest point: 2363 m
Starting point: SchattbergXPress, mountain station