Your biking paradise in the Salzburg Alps
Biking while on summer holiday in the Pinzgau region
With its mountain bike trail network spanning more than 400km, Saalbach Hinterglemm is the ideal destination for your biking holiday in the Salzburger Land. An absolute highlight is the direct link to the Bike World Leogang, which may be reached by cable car from Saalbach Hinterglemm in just a few minutes.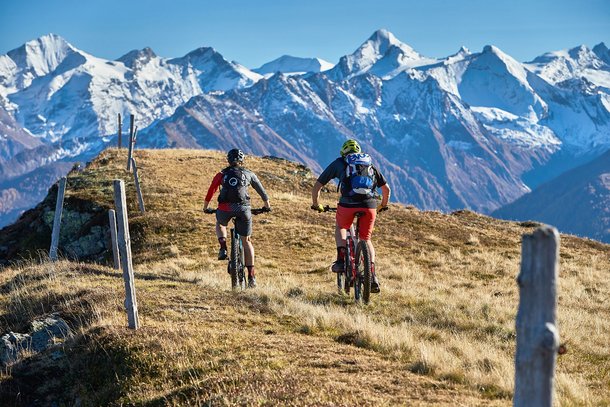 All you need while out and about
Top infrastructure in the mountain bike region of Saalbach Hinterglemm
More than 30 huts in the region guarantee that bikers are well looked after while out in the mountains. Some even carry the "bike-friendly" label. In addition to the friendly service that is typical of the region, the huts are also happy to help with small repair jobs. From tyre pumps to puncture repair kits and inner tubes, mountain bikers and cyclists alike will find everything they need while out and about.
A bikers' paradise that will delight the hearts of any mountain bike fan.
Bike Circus Saalbach-Hinterglemm
400km of signposted mountain bike trails
720km-long cycling & mountain bike network in the region
Linked to the Tauernradweg cycle trail
Cable cars for bike transport (included in the JOKER CARD)
Cross-country marathon and half-marathon trails
Single Trails, Downhill, Freeride, Dirt Park, North Shore, training course
Linked to Bikepark Leogang
Many bike-friendly mountain huts
Free panorama card
Guided bike tours every day
Technique training
Events: World Games of Mountain Biking & Glemmride Festival
All bike tours at a glance
A few meters away from the Zwölferhaus you can enter the Bike-Circus and use more than 400 km of marked mountain bike trails. Experience the bike adventure on your own or on a guided tour!
All bike tours
The Downhill & Freeride runs
Downhill and Freeride fans are also catered for. One of the region's Downhill runs, the Z-LINE on the Zwölferkogel, is located right outside our hotel.
Go to Downhil & Freeride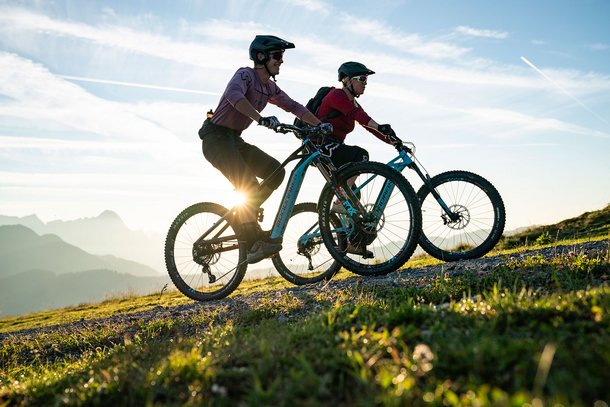 Bike highlight in Saalbach Hinterglemm
The Big-5 Challenge
You want a one-of-a-kind summer holiday? A holiday that is all about mountain biking and with some choice highlights? Then the Big-5 Challenge is the perfect choice for linking pure freeride and downhill fun with authentic mountain adventures. Five mountains, five cable cars - and one unique biking adventure! Learn more about the Big-5 Bike Challenge here.
Go to Big-5 Bike Challenge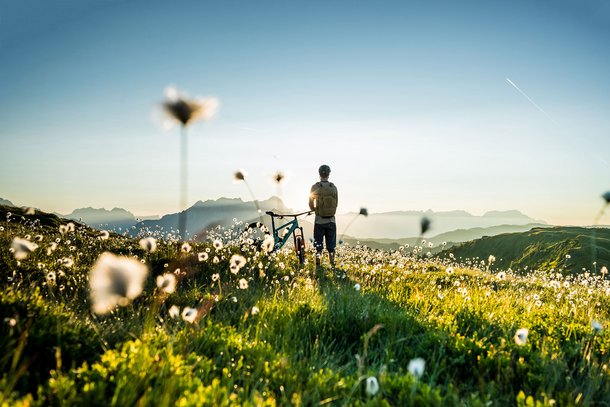 More drive for your two wheels
E-biking in Saalbach Hinterglemm
E-biking is becoming increasingly popular. During your summer holiday in Saalbach Hinterglemm, you have the option of exploring this beautiful landscape on an electric mountain bike. Whether you are an e-bike newbie or an old hand - the area around the Das Zwölferhaus offers beautiful trails for exploring nature and working up a sweat at the same time. You would like to rent an e-bike? No problem. At the sports outfitters Rabbit Sports by hasenauer, located directly in the hotel, you may test the latest e-bikes and rent the one you like best.
Learn more about e-bikes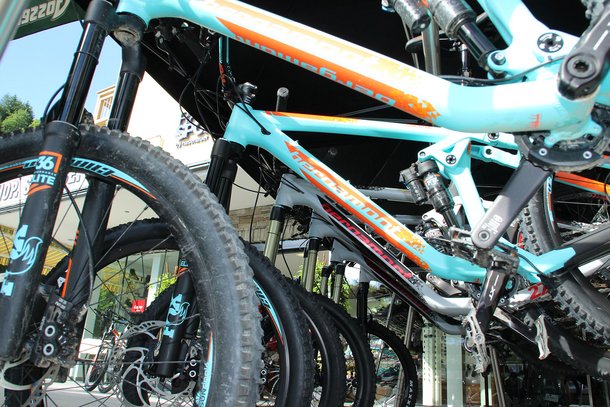 ALL ABOUT THE BIKE
RABBIT SPORTS – WE LOVE BIKES!
On the ground floor of our hotel, Rabbit Sports by hasenauer offers a wide selection of sports equipment all year round: Hiking and Nordic Walking poles, hiking shoes, backpacks, mountain bikes by Haibike and Bergamont, e-bikes, sportswear and much more!
Go to bike rental and sports outfitters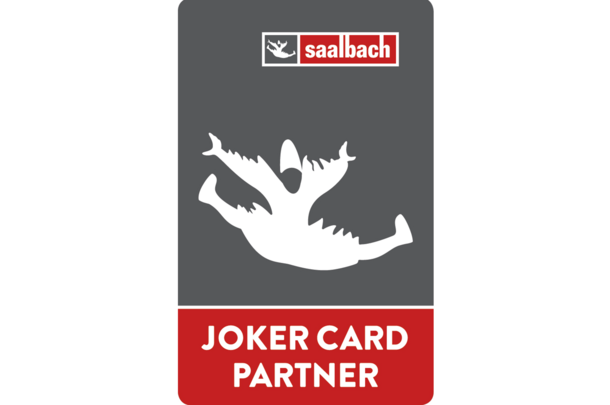 Cycling with the Joker Card
If you prefer a gentler pace while in the saddle, take the alternative of going up in the gondola lift. With your JOKER CARD, you may use the gondola lifts twice daily free of charge, while also enjoying a 30% discount on the bike tickets for unlimited use of the cable cars, including bike transport, in Saalbach Hinterglemm, in the Epic Bikepark Leogang and in Fieberbrunn. Once you're up there, you may cruise along numerous panorama trails, basking in the glorious views of the Alps.
Go to Joker Card
Zubuchbare Pakete für den Bike-Urlaub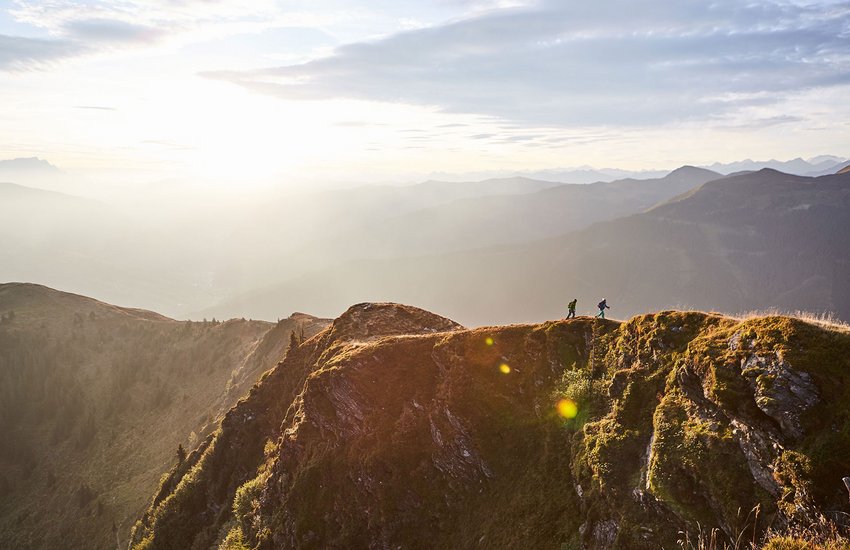 Hiking package
3, 4 or 7 nights with gourmet board, "Alm-Jausn" snack at the Rosswaldhütte and JOKER CARD
from € 352,- per person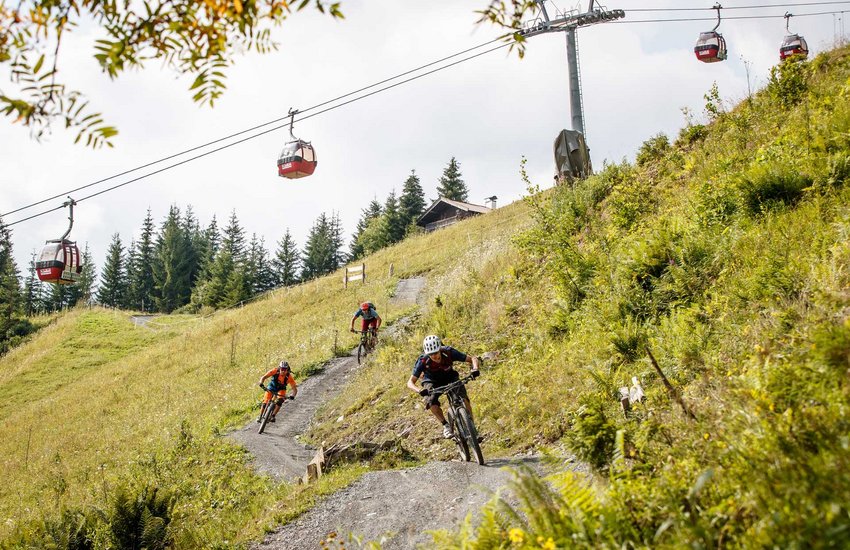 Bike'n Soul Package
3, 4 or 7 nights with gourmet board, guided tours according to Bike'n Soul tour plan and JOKER CARD
from € 372,- per person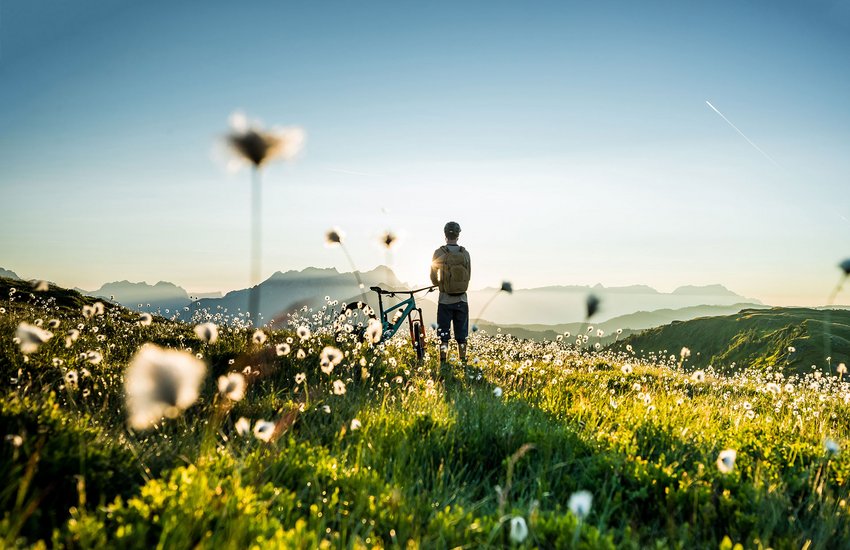 Bike light
3, 4 or 7 nights with gourmet board, daily sports laundry service and JOKER CARD
from € 348,- per person