Tobogganing adventures in Saalbach Hinterglemm
Tobogganing & night-time tobogganing in the Salzburger Land
Tearing down a hillside on a well-prepared, natural tobogganing run is something that no winter sports enthusiast will be able to resist. And in Saalbach Hinterglemm, you can take tobogganing one step further with night-time tobogganing. The tobogganing runs on the Reiterkogel, at the Spielberghaus and on Maisalm pasture are floodlit after nightfall. And have you ever heard of snow tubing? Read on and find out more.
Tobogganing run on the Reiterkogel
The tobogganing run on the Reiterkogel is 3.2km long. Let the cable car take you to the starting point - the trip is included in your ski pass. For safety reasons, only the toboggans provided by the cable car operator may be used as these are equipped with a special braking system. Operating hours of the Reiterkogel tobogganing run: daily from 8:30am–4:15pm. Night-time tobogganing on Tuesday, Thursday and Saturday from 16:15 - 21:30 (illuminated until 22:30)
From the Spielberghaus to Saalbach
A second tobogganing trail, also 3km long, is located at the Spielberghaus just above Saalbach. You can either walk up to the Spielberghaus, which takes approx. 45 minutes, or hitch a ride with the PistenBully and your rental toboggan. The ascent with the PistenBully is possible daily (except Sunday) from the Spielbergweg dam - a telephone reservation is required at the Spielberghaus.
Tobogganing night on Maisalm pasture
From Maisalm pasture, a 2km tobogganing run leads towards Saalbach. For a fee, you can rent your toboggan on the Maisalm, also known as a fantastic après-ski location. Walking up to the Maisalm from the village takes approximately 25 minutes. The Maisalm tobogganing run is open daily from 6pm.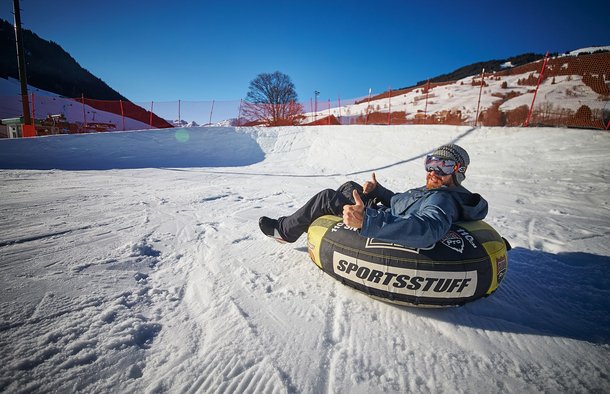 Snow tubing
Lots of fun with inner tubes
Toboggans are not the only "vehicles" that allow you to whizz down a snow-covered hillside. Snow tubing is another fun activity to try in winter. At the Unterschwarzachbahn cable car in Hinterglemm, there is a 120m-long run for you to slide down on large inner tubes made of rubber. A conveyor belt with take you to the starting point and the snow tubes are provided free of charge.
The floodlit snow tubing run in Hinterglemm is open from Monday to Saturday, 5pm until 9:30pm.
Tobogganing at any time of day or night will add variety to your winter holiday in Saalbach Hinterglemm. And once you've returned to the warm and welcoming ambience of the Zwölferhaus, you will happily fall into your comfortable bed and sleep like a stone, only to wake up refreshed and ready for another active day out and about!