Relaxation close to heaven
SKY wellness at the hotel Das Zwölferhaus
Saalbach Hinterglemm is without a doubt one of the most beautiful regions in the Alps. However, sometimes spending a day at the hotel is just what you need. Relax in the SKY wellness are on our top floor. Discover beautiful places for feeling good with panoramic views in the modern, spacious and elegantly furnished wellness area.
The SKY wellness area is open daily from 3pm until 7pm.
Finnish panorama sauna with mountain views
Bio sauna
Salt steam bath
Infrared booth with relaxation loungers
Outdoor diving pool
Stone pine quiet room with water beds
Panorama quiet room with mountain views
Wellness roof terrace with open fireplace and lounge furniture
Fluffy bathrobes, bath towels & slippers in your room; additional sauna towels are available
"Kraftwerk" fitness lounge on 70m², with state-of-the-art cardio and weight machines by Precor as well as mats for your own exercises
Tea bar with wellness teas and healthy snacks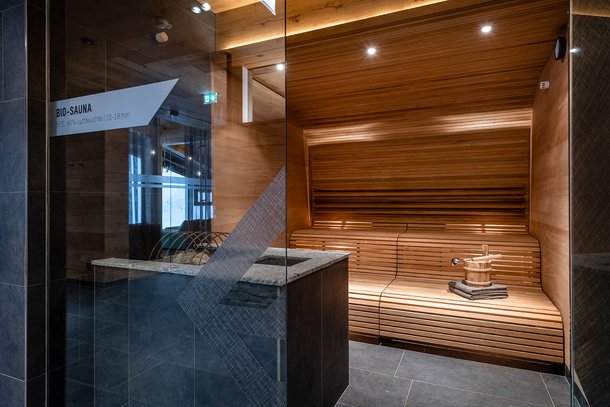 A healthy sweat
Sauna area with Finnish sauna and bio sauna
A session in the Finnish sauna is a great way to restore the balance between body and mind. And while you are working up a sweat, you are also doing something for your fitness. At high temperatures ranging from 80-90°C, the Finnish sauna strengthens your immune system as well as your circulatory system. Temperatures in the gentler bio sauna are lower, making it a great option for sauna newbies.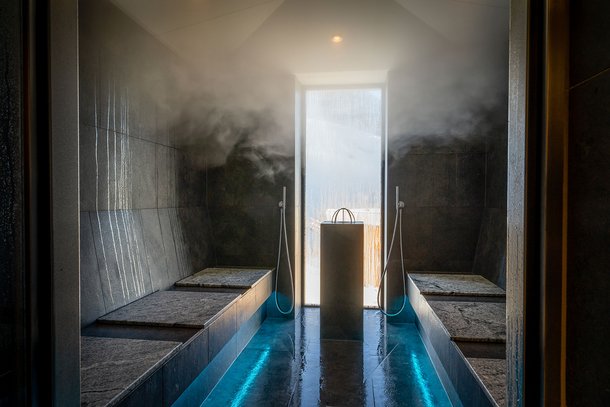 Soothing steam
Salt steam bath
Our salt steam bath invites you take a really deep breath. Steam baths are a wonderful way to promote health: just like in a sauna, they make you sweat - but in a completely different room climate. Salt steam baths are a special type of steam bath, where a saline solution is introduced into the steam. This soothing, hot steam is reminiscent of sea air on a humid day and has a beneficial effect on the respiratory system, the skin and on rheumatic problems.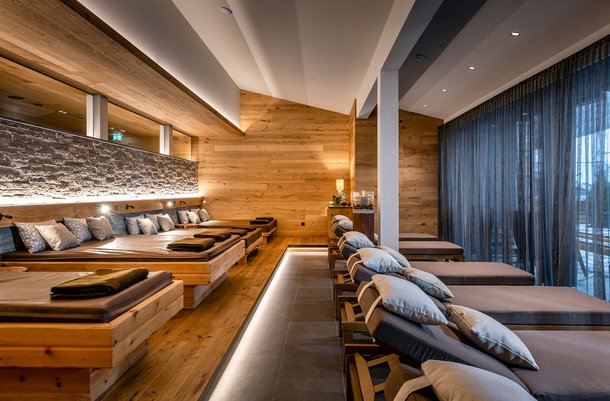 The soothing effects of stone pine
Stone pine quiet room with water beds
Our stone pine quiet room with water beds offer holistic relaxation. The characteristic fragrance of the essential stone pine oils are particularly soothing and have a wonderfully calming effect. Together with the gentle motion of the water beds, this is relaxation at the highest level. If you can't get enough from the fragrance of stone pine, we have more in store for you in our stone pine rooms and suites.