On the pistes day & night in the ski circus Skicircus Saalbach Hinterglemm Leogang Fieberbrunn
Night-time skiing in Saalbach Hinterglemm
If a day on the slopes in Austria's largest ski resort was not enough for you and you'd like to spend even more time on skis, you shouldn't miss the floodlit slope in Hinterglemm. The piste of the Unterschwarzachbahn cable car is open at night on six days a week.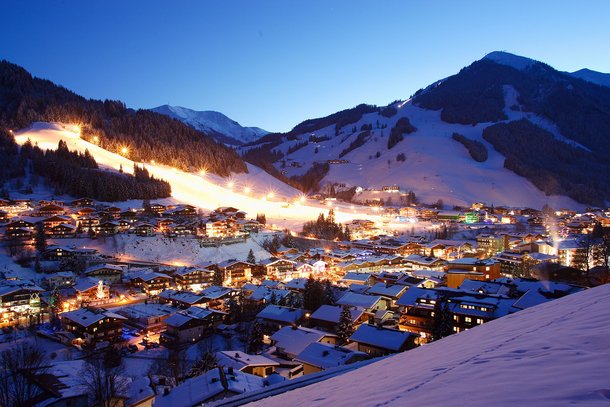 For skiing night owls
Ski while others sleep
The floodlit piste of the Unterschwarzachbahn is open at night on Monday, Wednesday and Friday. On those days, you may ski until 9:30pm. You will see the long run winding its way through the dark mountain landscape light a brightly lit ribbon. Especially when the moon is out and the slope is lit by its natural light, night-time skiing is an unforgettable experience. Innumerable spotlights that are set up alongside the flood-lit piste make it as bright as day. Indeed, you can see the the piste in razor-sharp definition - visibility is often better than during daytime hours! And in between day and night-time operation, the snow groomers do their work to ensure that the piste is perfectly prepared for night-time skiers.

Fun in the dark
Nightpark and SkiMovie trail
And there is even more fun to be had on the piste next to the Unterschwarzachbahn cable car: In addition to the easy to moderately difficult downhill run, the highly popular Night Park is open in its upper section, where boarders and skiers may hone their skills on a range of lines, boxes and other obstacles even after nightfall. Calling all ski racers! On the SkiMovie trail in the Night Park, you have the opportunity of making your very own racing video.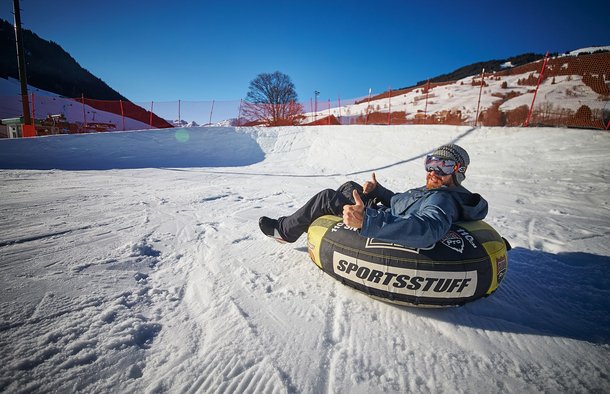 Fun in the snow with inner tubes
Snow tubing:
On night-time skiing days, the snow tubing trail is also open from 5pm until 9:30pm. Sounds like fun? You bet! Slide down a 120-metre-long slope while sitting in a giant inner tube, provide free of charge.

Tobogganing after dark
Night-time tobogganing
Also great fun is a tobogganing session in the hours of darkness: On the Reiterkogel, near the Spielberghaus and on Maisalm pasture, there are tobogganing trails where night-time tobogganing is possible.