Mouth-watering cuisine at the Zwölferhaus
The flavour of the Salzburger Land
Are you familiar with the classic treats of Salzburg? Would you like to taste a few of our traditional dishes? No problem. At the Zwölferhaus, we specialise in preparing delicious dishes using regionally sourced ingredients and recipes as well as the classics of international cuisine. Prepare to be surprised by the multi-faceted flavours of the Salzburger Land!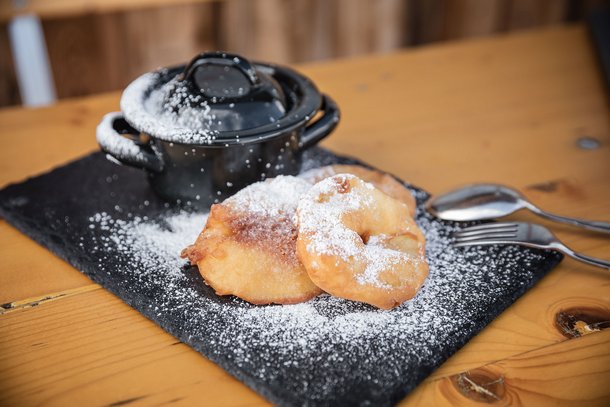 Traditional treats
From "Salzburger Nockerl" to pasta pockets
So what exactly is the classic cuisine of Salzburg? Let's start with our best known classics: The wonderfully fluffy and sweet "Salzburger Nockerl", "Pinzgauer Krapfen" - our version of the donut - or Lungauer "Kasknödl" soup, clear soup with cheese dumplings. Then of course there is the "Bauernschmaus", a platter of cold cuts, and the amazing "Kasnocken", a type of spaetzle with cheese. Not to be forgotten are the savoury chanterelle pastries with brown butter and Scotch cheese - topped off with a good sip of Austrian wine.... simply delicious!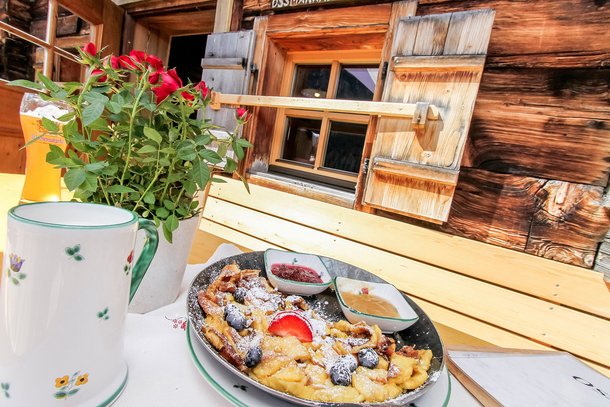 Home-made is always best!
Our recipe tips for you to try at home:
You have found your personal favourite while on holiday with us in Saalbach Hinterglemm and would like to recreate it back in your own kitchen? Try these two popular recipes that we are sharing with you:
"Pinzgauer Kasnocken"
Hearty, filling, delicious!
Go to recipe
"Buckwheat pasta pockets with a chanterelle filling"
Deliciously fresh pleasure
Go to recipe
Sounds delicious? Then send us your inquiry now and find out more about the delights of the Salzburger Land.