Mountain and hiking holidays in Salzburger Land
Hiking hotel in Saalbach Hinterglemm
More than 400 km of marked hiking trails in Saalbach Hinterglemm will get you in the mood for hiking in summer. Enjoyable tours with family, panoramic alpine hikes or challenging summit tours - here, hikers and alpine mountain freaks will find what they are looking for. Romantic mountain lakes, colorful alpine meadows, rustic mountain huts and wonderful trails in the picturesque mountain world of the Glemmtal are waiting to be conquered. Spend an unforgettable mountain and hiking holiday in Salzburger Land, ideally with us at the hiking hotel Das Zwölferhaus because here you are in the perfect starting position to explore the region straight from the hotel!
Wandern im SalzburgerLand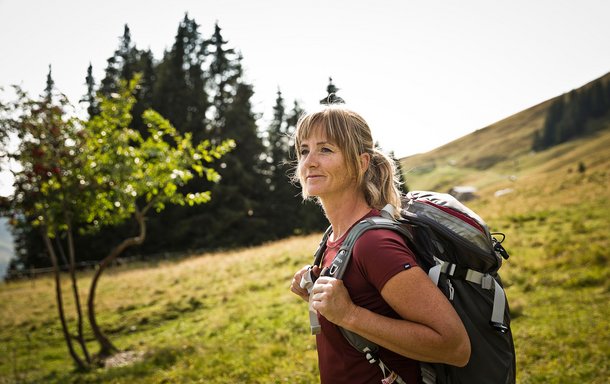 Your easy access to the hiking routes
Summer cable car lines in Saalbach Hinterglemm
Saalbach Hinterglemm has a total of six cable car lines at its disposal. All of them will bring you to the starting points of many signposted hiking trails in ease and comfort. With the JOKER CARD, you may use the cable car lines in Saalbach Hinterglemm free of charge. Use of the hiking bus is also included. Getting to the mountain stations in the region therefore couldn't be easier. And there, you don't just have breathtaking views to enjoy, but also innumerable fantastic biking and hiking trails.
Go to JOKER CARD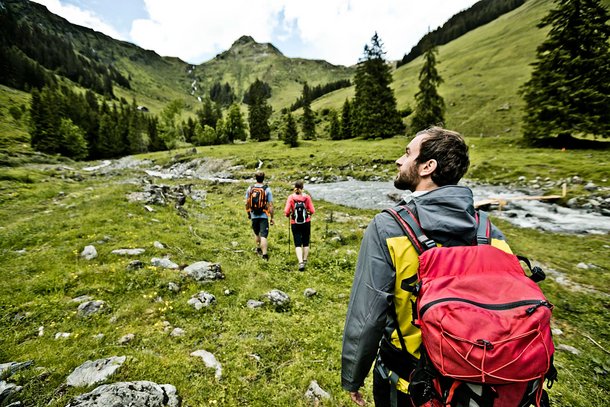 Safely out and about in the hiking paradise
Signposted network of hiking trails
In our hiking trail network that spans 400km, all routes are signposted and marked. Let them guide you safely through this Alpine paradise during your unforgettable hiking holiday in Saalbach Hinterglemm. Whether you are planning to set out on your own or would like to join one of many guided hikes (included in the JOKER CARD), you are bound to love the beautiful hiking routes around Saalbach and Hinterglemm. The Zwölferhaus, as the ideal hotel for hikers in Hinterglemm, is with its location the ideal base camp for leisurely but also challenging hikes. Start your hiking tour directly from the hiking hotel in Hinterglemm and discover the beautiful natural surroundings of the region.
Advantages for hikers
Guided hiking tours with guides from the tourist office.
Hiking poles & hiking backpack hire at reception
Locker for hiking boots
Sports laundry service: ... so that you can start your next hike with fresh clothes.
Drying room for clothes and shoes: If you ever get wet, there is a drying room for your clothes and shoes.
Tour map of the Saalbach Hinterglemm Leogang region: ... so that you always have an overview of the Saalbach Hinterglemm hiking area.
Daily energy package: For refreshment during the tour, you can order an energy package in advance.
Info corner: ...everything you need to know about hiking, tours, huts etc.
Assistance with route planning: We are happy to help you with questions about hiking or mountain tours.
Weather info & danger alerts: You can get all the information you need directly at our reception.
Well-earned relaxation
Hiking and relaxing
When you come back from your outdoor adventures and take your hiking boots off your tired feet, it is time for relaxation in order to restore your energy levels for the rest of your holiday. Enjoy refreshments on our sun terrace, or recharge your batteries with a sauna or steam bath in our SKY wellness area.
Go to SKY wellness
Perfectly equipped for the mountains
The hiking gear that is right for you
Have you ever heard the saying "There is no bad weather, only bad clothing"? It is never truer than when it comes to hiking. For a perfect day out and about, you need the right gear. If your start your hike with the right equipment and the necessary information, you will enjoy an unforgettable day in Saalbach Hinterglemm.
Go to hiking equipment
Hiking adventures in a group
Guides hikes during your summer holiday in Hinterglemm
The hikes that the Tourism Association organises free of charge constitute a real bonus for holidaymakers in the region. Check the latest weekly programme for meeting points and other information, ask our team at the hotel Das Zwölferhaus or check the info channel.
More on guided hikes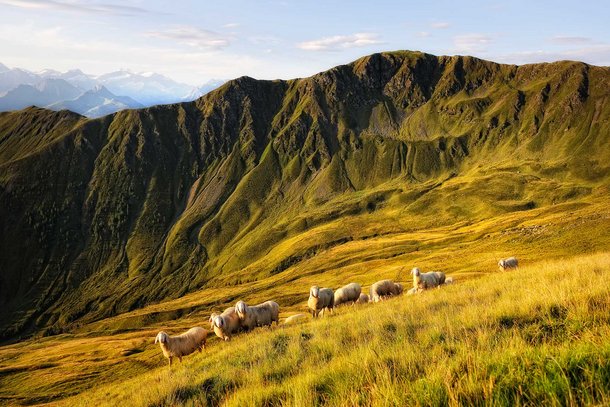 What to watch out for
How to behave around grazing livestock
During all your hikes, whether you are out with family or on your own, please be aware of your surroundings at all times. Hikes often take you up to higher altitudes, where cattle, sheep and goats are grazing during the summer. To enable the harmonious coexistence of humans and animals in the mountains, please follow our rules for how to behave around grazing livestock.
Go to video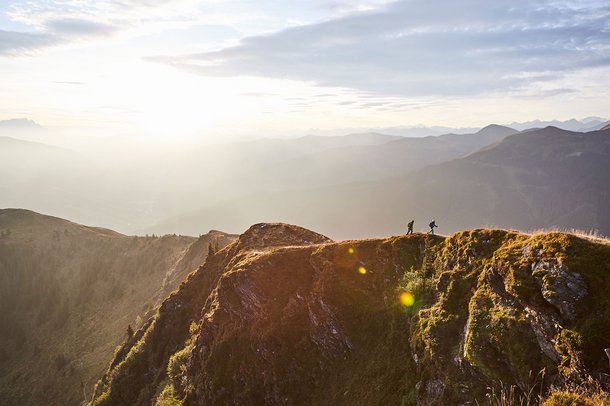 Exercise in the mountain air
Hiking = natural fitness training
Hiking promotes the health of body and soul like no other recreational sport. No matter what age you are, exercise in the fresh mountain air is beneficial to your health. Let others go to the gym - you can work up a sweat in the mountains instead. Hiking is a full-body workout that uses all the muscles at the same time. On the way up, you improve your stamina and stimulate the heart, lung and muscles. Coming down is a workout for the joints, the postural system and the spine. There simply is not better way to achieve fitness and health ­
and there is no more beautiful or more fascinating fitness studio than the mountains of the Salzburger Land. The dense network of hiking trails may be accessed easily and safely with the cable car lines. In addition, the mountains around Saalbach have particularly health-promoting altitudes and climates.
Additional packages for hikers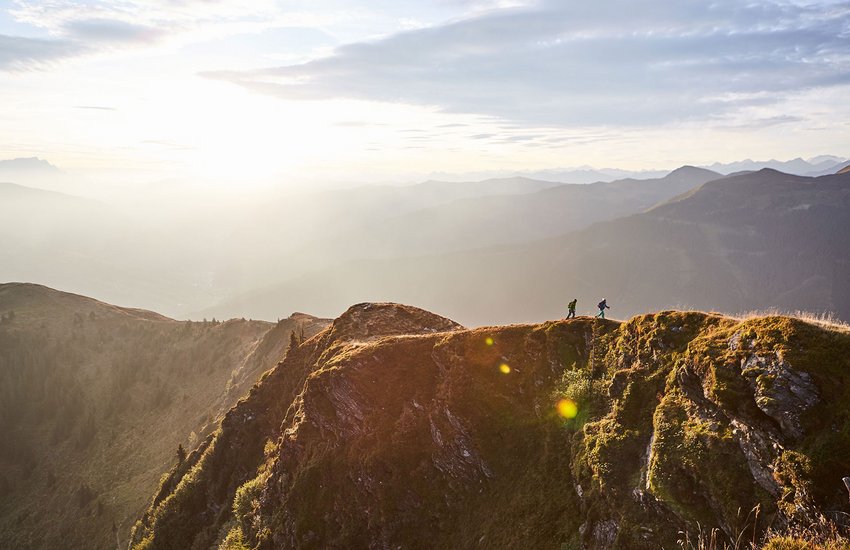 Hiking package
3, 4 or 7 nights with gourmet board, "Alm-Jausn" snack at the Rosswaldhütte and JOKER CARD
from € 352,- per person