Cross-country skiing trails around the Zwölferhaus
Cross-country skiing in Saalbach Hinterglemm
There is more to winter than the slopes: In Saalbach Hinterglemm, fans of cross-country skiing will also find plenty of opportunities for indulging in their favourite pastime. Enjoy the freshly prepared trails in the pristine winter landscape in peace and stress-free. The Talschluss trail and the high-altitude trail in Hinterglemm are unmissable for any cross-country fan worth their salt.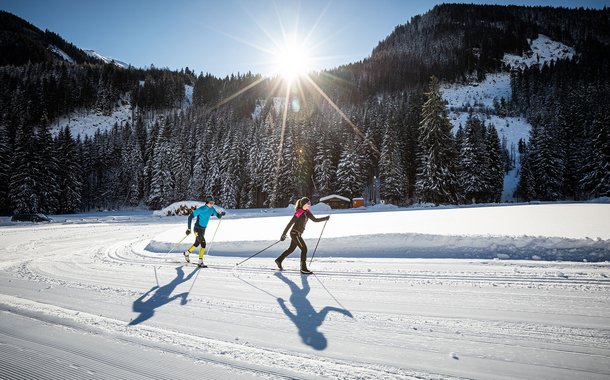 Get fit while cross-country skiing
Talschluss trail in Hinterglemm
In Hinterglemm, right towards the far end of the valley, you have ample opportunity for outdoor fitness training on cross-country skis. The 10km cross-country trail with an altitude difference of just 100 metres is perfect for improving your stamina. You glide through the valley, past pretty houses and rustic huts, until you get to Lindlingalm pasture, where a warming snack awaits to fortify you for the way back.
Right next to the Lindlingalm is the tree top trail, a wonderful attraction both in summer and in winter. At night, this unique 40-metre-high trail consisting of wooden bridges and platform is magically lit up and makes the perfect destination for those with a romantic disposition.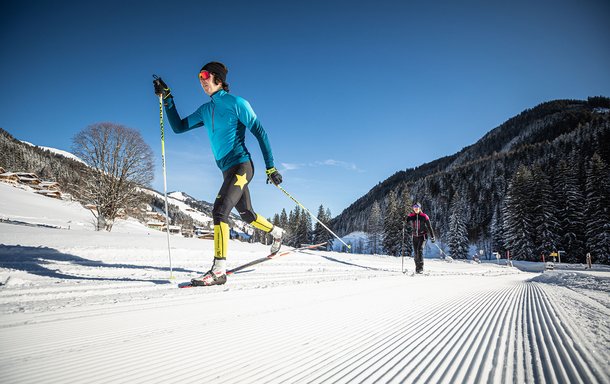 Cross-country skiing with panoramic views
High-altitude trail in Hinterglemm
Who says that cross-country skiing is only for the lowlands? Simply move your route up to higher terrain. The high-altitude trail on the Reiterkogel will make your favourite sport even more special thanks to the magnificent views on offer. And while the surrounding mountain panorama glides past, you will find that your workout will take no time at all. The high-altitude trail in Hinterglemm is 2km long and located at altitudes from 1,100 and 1,400 metres. To get to the start, take the Reiterkogelbahn cable car.
And if you still crave more cross-country skiing opportunities, head to the neighbouring villages of Saalfelden and Leogang, where a veritable cross-country ski paradise with innumerable kilometres in length awaits.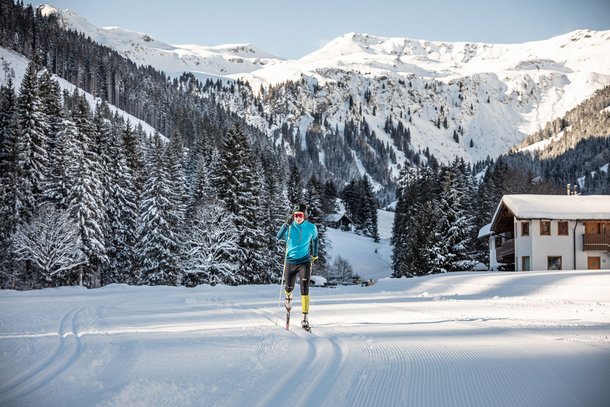 The right gear for the cross-country trails
Cross-country ski rental
If you don't bring your own cross-country skiing gear, simply rent what you need in the ski shop and rental Rabbit Sports by Hasenauer, part of the sport hotel Das Zwölferhaus. Your cross-country skiing break can now begin!
For cross-country skiing instruction, please contact the ski schools in your holiday region.
Go to ski schools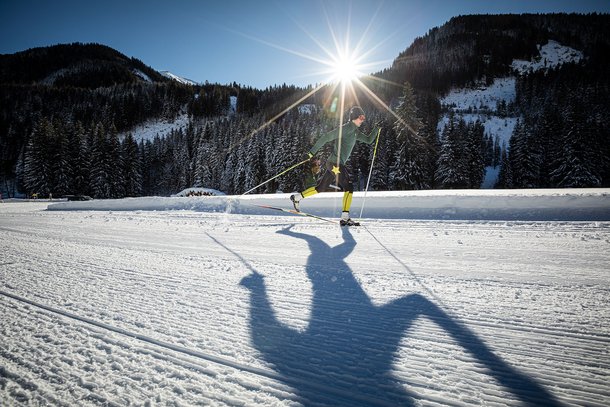 So many possibilities
You are looking for more?
If you enjoyed the peaceful winter landscape during your cross-country skiing trips, away from the crowded pistes, you should also try winter hiking. To finish your hike in style, enjoy a mug of hot mulled wine on the sun terrace of one of the mountain huts in Saalbach Hinterglemm - a dream of winter come true! If you are looking for a "proper" winter and all the opportunities it brings, Saalbach Hinterglemm is the right choice.