A SPECIAL HOLIDAY HOME
THE BOUTIQUE ZWÖLFERHAUS HOTEL IN SAALBACH HINTERGLEMM
A fresh, modern design with rooms brimming with ideas and originality and where tradition and modernity are at home. With authentic service that caters to every request. Culinary delights that celebrate the region. A friendly atmosphere, a smile at the right time and a shared enthusiasm for the mountains and sport. The Zwölferhaus is a small and delightful boutique hotel. You can feel it. You can see it. You can live it.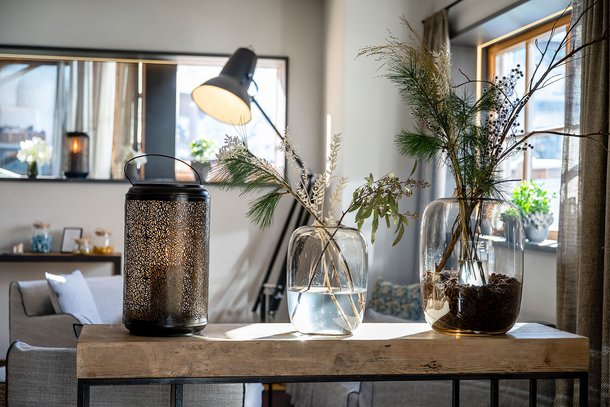 Exclusive - but down to earth
A new class of well-being
The 4-star superior Hotel Zwölferhaus in Saalbach Hinterglemm is a small but delightful gem. Despite the small space you will find everything here that could make your holiday that little bit extra special. It even looks great - with attention to detail as every decoration is lovingly planned and fits exactly into place. The design is modern, stylish and brings a breath of fresh air. Everywhere you can feel that something has been created here with great passion and joy in order to make others happy and to make your own dreams come true. Only the very finest materials were used. That's how a hotel was created with its very own unique charm that always retains its friendly atmosphere. It is in a niche of its own for well-being, far removed from the mainstream.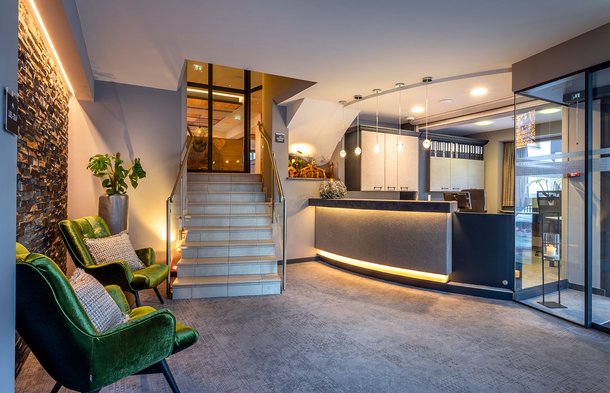 It's very homely
Friendly, full of character, individual - in the Zwölferhaus
Many favourite rooms await the guests in the Zwölferhaus. Everyone will get the feeling that there is a special holiday ingredient that they can only find here – in the boutique Zwölferhaus hotel in Hinterglemm. Added to this is the warmth of the hosts, their down-to-earth attitude and clear joy in what they do: spoiling you, making you happy and reading your wishes just from your eyes. With a little chat in between, tips for tomorrow's hike or the perfect slope perhaps. Nobody is just another guest here, as each guest is special in their own right. It won't take long before you feel at home here. Homely and in good hands.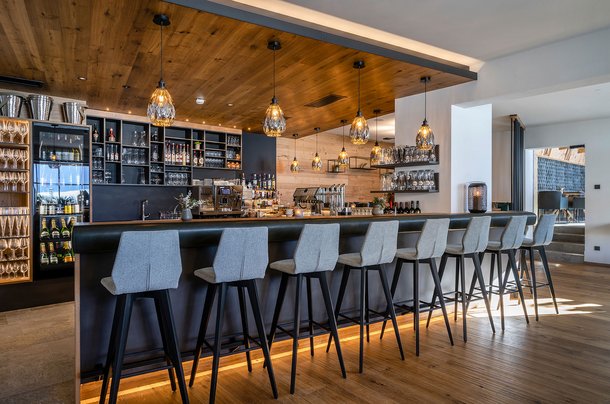 The best in every moment
Enjoy it to the full in a boutique hotel
Making a little more out of everything – that's what the Zwölferhaus is focused on. This can be seen in the culinary enjoyment: as regional ingredients of the highest quality are served up in creative culinary dishes that combine tradition and new, fresh ideas. Every bite is an experience in itself. Not by reinventing the wheel, but by always being tasty. When it comes to wellness, too, our standards are high – up on the roof, to be precise. Relaxing with the sky above has a certain class to it and feels really good. The service is always first-class - attentive, fast, warm and always with a personal greeting.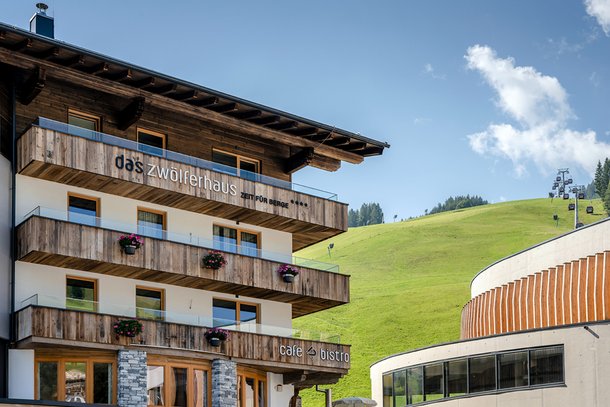 Surrounded by life
Top location in the Zwölferhaus
The 4-star superior boutique Zwölferhaus hotel thrives from its its location. The mountains are everything here. Exercise, sport and being out in the open air are all key parts of the lifestyle of the hosts in the heart of Hinterglemm. This joy and enthusiasm for activity and nature is reflected in the entire Zwölferhaus, gets transferred to the guests and ensures for plenty of lively conversations. Tips are exchanged, stories are told and tours are planned. That's what the boutique hotel Zwölferhaus stands for: a friendly atmosphere, shared enjoyment of nature and sport. All of this in an exclusive environment where every detail counts.
Enjoy your holidays in the Boutique hotel Zwölferhaus in Austria. We are looking forward to your non-binding inquiry!