Even more adventures with Saalbach Hinterglemm in your pocket
The JOKER CARD: A deck full of benefits for your summer holiday
Let us introduce you to your most important companion during your summer holiday in Saalbach Hinterglemm, courtesy of the hotel Das Zwölferhaus: the JOKER CARD. It will open the doors of many facilities and services that you may use either completely free of charge or at a discounted rate. You will receive your JOKER CARD at reception during check-in for the duration of your stay. If you are out and about in the region of Saalbach Hinterglemm, don't forget to show your JOKER CARD and enjoy the many discounts!
Get more from your holiday
Your advantages with the JOKER CARD:
Unlimited use of all the cable car lines in operation in Saalbach Hinterglemm for hikers (exception: special runs).
2 x daily free use (passenger transportation) of gondolas in Leogang (optionally 1 x each with Asitz- AND Steinberg gondola or 2 x with Asitz- OR Steinberg gondola)
Free bike transport on cable cars in Saalbach Hinterglemm or Leogang twice daily
20% discount on "Bike" tickets for unlimited use, including bike transport, with up to 9 cable cars in Saalbach Hinterglemm, in the Epic Bikepark Leogang and in Fieberbrunn
Since summer 2023, the card is valid on the day of arrival and departure
Up to 10 guides hikes per week, organised by the Tourism Association
"Talschlusszug" train
Hiking bus in Saalbach Hinterglemm; public transport throughout the Pinzgau region
Family adventures: Kodok mountain, Montelino's adventure path, "Teufelswasser", motor skills trail, fairy-tale forest, kids' hiking challenge, summit playgrounds
Tennis courts in Saalbach Hinterglemm (please reserve in advance)
"Captain Hook" outdoor pool in Saalbach
Mini golf in Saalbach
Alpine herb path on the Reiterkogel
"Heimathaus" local history museum and ski museum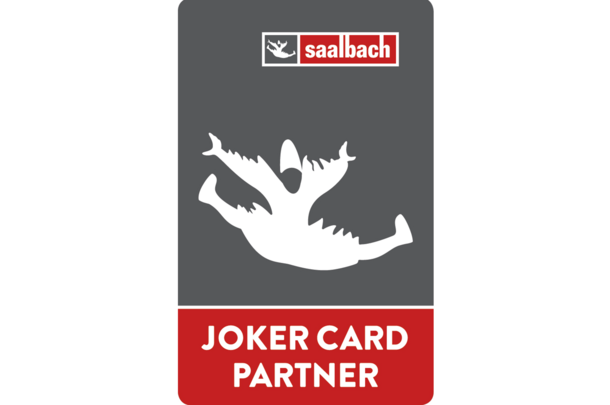 Discounts with many partner businesses
Tree top trail & Golden Gate of the Alps
Archery course in Viehhofen
Summer tobogganing run in Saalfelden
Ritzen Castle and Ritzen Lake
Leogang show mine
Kaprun Spa
and much more!
With the JOKER CARD, you don't just hold all the aces in Saalbach Hinterglemm, but will also enjoy a wide range of discounts on sights and attractions in the wider region. Simply show your JOKER CARD and reap the rewards!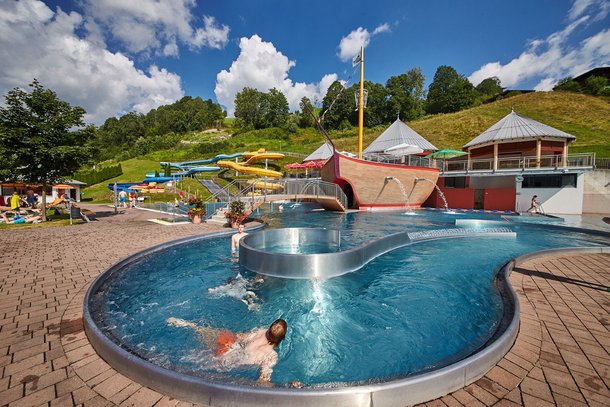 A summer full of possibilities
A holiday in Saalbach Hinterglemm
Saalbach Hinterglemm has a lot to offer - not just in winter, but also during the summer months, making it a perfect destination for a multi-faceted holiday in the beautiful setting of the Austrian Alps. Whether you are exploring a hiking trail, trying your luck on the Bike Circus, exploring the region's adventure worlds with your children or planning a trip to the cities in the region: The possibilities for your summer holiday in Saalbach Hinterglemm are endless.
Your base camp at the heart of the hiking region is the family-run hotel Das Zwölferhaus, right next to the valley station of the new, state-of-the-art gondola lift 12er KOGEL. Here with us, you will find 4-star Superior comfort and relaxation after your adventures in the great outdoors. Ask us for your non-binding holiday proposal today!