Trek across the snowfields of the Glemmtal Valley at your own pace
Winter hiking in Saalbach Hinterglemm
270km of pistes in Austria's largest ski circus, 408km for holders of the Ski ALPIN CARD, are certainly a good argument to visit Saalbach Hinterglemm. But don't forget that there are lots more winter sports activities for you to try! Snow shoe and winter hiking is perfect for all those who'd like a gentler pace than is generally to be found on the slopes, while still exercising in the great outdoors. Hiking through forests and across idyllic snowfields is the perfect route to happiness for body and soul.
Whether you are wearing sturdy hiking boots or snow shoes that cover a larger surface: Hiking through the snow-covered winter landscape of Saalbach Hinterglemm is always a pleasure and will open up completely new perspectives of this winter sports region in the Kitzbühel Alps.
At the Zwölferhaus, you are right next to the slopes and enjoy direct access to this multi-faceted winter sports resort. You are not just at the heart of the skiing region, but also within easy reach of the cross-country skiing and winter hiking trails.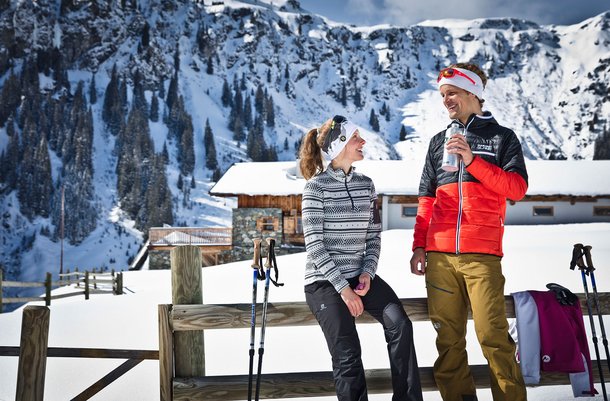 The tranquil winter world away from the pistes
40 km of winter hiking paths
Lots of hiking routes that you may know from the summer are also accessible during the winter months, when a thick blanket of snow makes them appear in a completely different light. 40km of winter hiking trails are just waiting to be explored and provide a tranquil interaction with nature that is a far cry from the busy slopes.
The perfect opportunity to collect your thoughts and refocus your mind, when you can hear nothing but the crunching snow under your feet. An unspoilt natural setting, clad in pristine white, emanates a wonderful sense of peace and serenity. Watch your breath turn white in the icy-cold air. Not far now - you can already see the friendly glow of the nearest mountain hut. Start looking forward to a warming mug of mulled wine - you deserve it!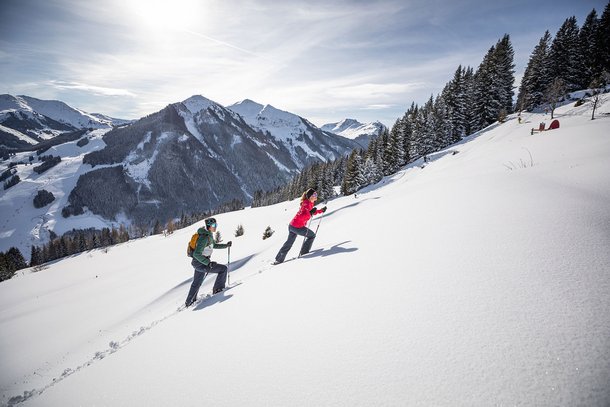 A gentle alternative
Guided snow-shoe hikes
If you would like to go hiking in a group or need someone to show you the most beautiful trails, put down your name for a guided snow-show hike with the Skischule Saalbach. Away from the pistes and the cross-country trails, you can explore the snow-covered landscape at a gentle pace. A health-promoting winter activity that suits all age groups and is a great alternative to skiing or cross-country skiing.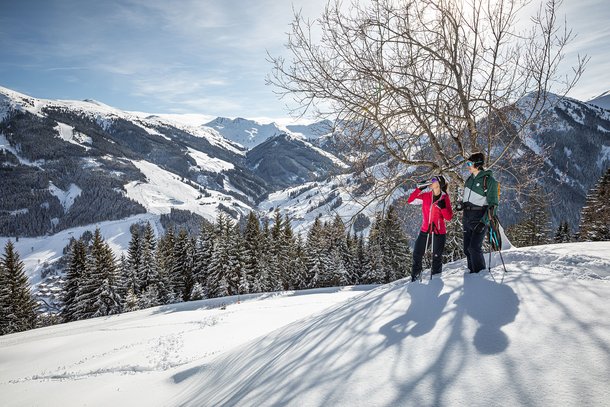 Ready for the snow
The right hiking gear
For a winter hike on one of the well-maintained hiking paths, you will need nothing more than warm outdoor sportswear and sturdy hiking shoes. For walks in deep snow, on the other hand, we recommend snow-shoes. Snow-shoes are strapped onto your normal shoes and have an extra-large sole that will prevent you from sinking in the snow.